Tearful Adele FaceTimes fans after axed gigs urging them to visit merchandise store
22 January 2022, 19:12 | Updated: 23 January 2022, 00:43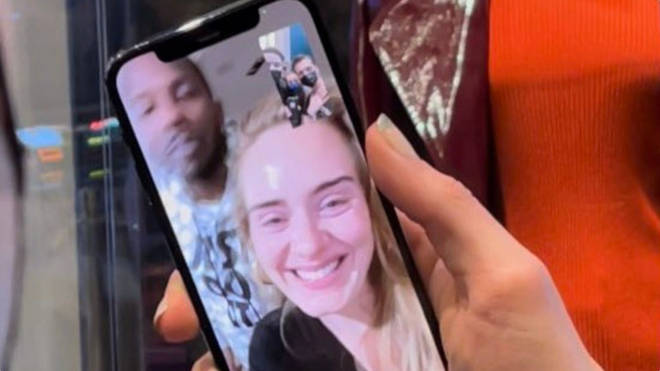 Adele fans have been left gobsmacked after the star FaceTimed them in tears after having been forced to cancel her shows in Las Vegas.
The award-winning singer cancelled less than 24 hours before her opening night due to delivery delays and coronavirus, leaving fans who spent a small fortune on tickets furious.
In a bid to make it up to her supporters, she picked up the phone and spoke to them through video calls as well as personal messages on social media.
Despite the star ensuring each ticket-holder received a free gift bag from her Vegas store as well as a drinks token, she still took the chance to encourage fans to visit her store and have a look at the merchandise on sale.
Jumpers were said to be around $100 (£73) each, with t-shirts at $50 (£36) and bottles of her favourite wine costing $75 (£55).
It was yet another blow for fans who had already been hit with the pricey concert tickets, which ranged from $85 (£60) to $685 (£500).
In a direct message on Instagram, she said: "James it's Adele! I really am so sorry.
"If you're still here at 6pm, my store in the middle of the Caesars casino just outside the entrance to The Colosseum is opening up still.
"It's not just a shop! There are fun and nostalgic things from my career in there, nods to moments of the last decade and all sorts of things to look at and so on."
Read more: Fury of fans after Adele tells them 'my show ain't ready' 24 hours before opening night
In one call with fan Dominic Crisonino and his friends, she said: "I'm letting myself be sad.
"I'm feeling really nice seeing you all there. Everyone keeps calling me.
"Where are you guys from? I love New York. I'm really sorry I'm not there."
Sharing an image from the virtual meeting, Mr Crisonino said: "I'm just at a loss for words. I cannot believe I go to FT with Adele tonight."
I will never forget 1/21/22 for as long as I live. Thank you @Adele

— Dominic Crisonino (@Dominic_Criso) January 22, 2022
In another call, she was quick to revoke the offer a free drink when she realised they were underage.
"Get your free bag - and you're not old enough to drink are you so you can't have that free drink token," Adele said.
"You're too young...get your freebies and chat to anyone. Ask any of my team anything about the show, ask them anything about me, about the show.
"I designed that score myself, I bled and f**king sweated and cried into it.
"So just have fun to all the fans and I'm really sorry and it's really nice to meet you both.
"And I'm truly, truly like humbled at you two at your age. Please thank your mother from me."
I have the best fans in the world! Your graciousness and love tonight is overwhelming! Thank you ♥️

— Adele (@Adele) January 22, 2022
Adele previously announced in a tearful video that her Las Vegas performances were not ready and postponed them entirely, after being "absolutely destroyed" by delivery delays and coronavirus.
She added that she and her production team had tried "absolutely everything" to pull the show together in time but that it had been "impossible".
Adele later thanked fans for their understanding following the announcement.
She tweeted: "I have the best fans in the world! Your graciousness and love tonight is overwhelming! Thank you "
The singer released her fourth album 30 in early November and her Las Vegas residency was due to begin at The Colosseum at Caesars Palace Hotel on January 21.
She promised that dates would be rescheduled and apologised to fans for the late decision.
"I'm so upset and I'm really embarrassed and I'm so sorry to everyone who has travelled again. I'm really sorry," she said.