Universities fuelled Omicron outbreak, says South African Health Minister
28 November 2021, 10:47
The South African Health Minister Dr Joe Phaahla told Tom Swarbrick that university outbreaks fuelled the spread of the Omicron variant.
He told Tom Swarbrick the "majority" of cases were among young people, who are now making up most of hospitalisations in the country.
Dr Phaala added outbreaks at universities in Pretoria, South Africa and other major cities are to blame for the rise in cases in the country.
According to the Health Minister, 65% of hospitalisations for coronavirus in South Africa are unvaccinated people, and just 26% of young people have received the vaccine.
But he said it is "too early to tell" exactly how ill people become with the Omicron variant, which was first discovered in South Africa.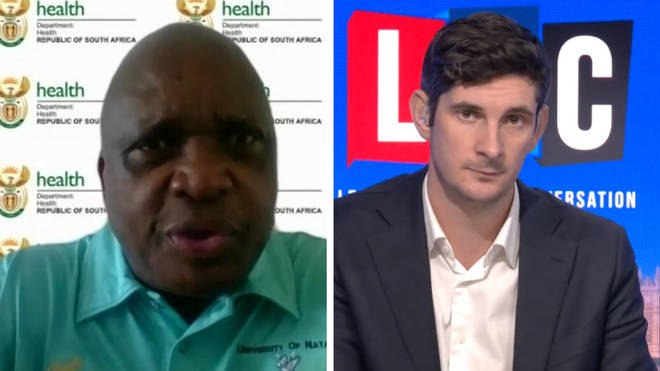 Read more: Omicron variant: PM tightens mask rules and says Christmas will be better this year
Read more: Two UK cases of Omicron Covid variant detected with 'link to travel to southern Africa'
Dr Phaala told Tom the UK's ban on travellers from the country is "very unfortunate and uncalled for."
"We have been here before," he said, adding: "It doesn't help the people of the UK and it doesn't help the people of South Africa."
He told Tom a travel ban is a "futile exercise" that just "doesn't work."
"You just create a false sense of safety amongst your people when it is not safe."
The Health Minister also called for more vaccines to be distributed to poorer countries.