Officers should not be re-vetted in wake of Everard murder, police chief tells LBC
3 October 2021, 12:53 | Updated: 3 October 2021, 12:56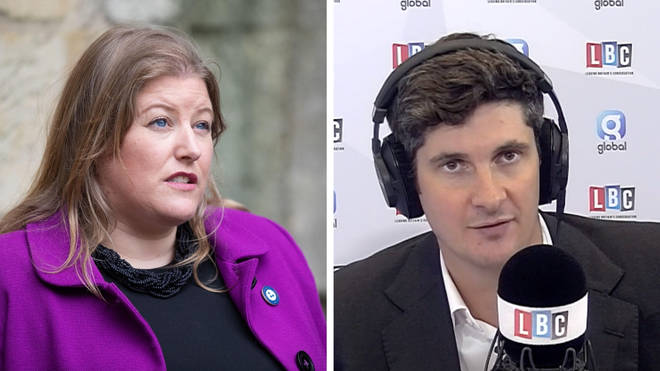 The head of policing for tackling violence against women and girls in England and Wales has told LBC she doesn't support calls for every officer to be re-vetted, in the wake of the murder of Sarah Everard.
The Met Police has admitted making mistakes in the process that led to the recruitment of Wayne Couzens, who this week received a whole life sentence for Ms Everard's murder.  
Donna Jones, who's also the Police and Crime Commissioner for Hampshire, told Swarbrick on Sunday there's better ways to reform policing than re-vetting officers.
"Re-vetting tens of thousands of people is not a sensible use of public money," she said.
"We need to make sure we have got the right processes in place so that when issues are reported the police forces are acting quickly."
Read more: Met to be quizzed as MPs call for 'security review' over Wayne Couzens' Parliament work
Read more: Police Scotland launch lone officer verification check in wake of Sarah Everard murder
When asked about the calls for every police officer to be re-vetted, led by the former Met Police superintendent, Ms Jones said she did not support the idea.
"We have got thousands of very good, honourable police officers working across the country who are in it for the right reason," she told Tom.
"We have to acknowledge that what happened with Wayne Couzens is an exception. It's a very, very unusual situation."
Quizzed on whether her force has any officers who have been accused of sex crimes, Ms Jones said: "Not that I am aware of."
Read more: Police probe into whether Wayne Couzens was behind more crimes as killer is jailed
Claire Waxman, the Victims Commissioner for London, also appeared on Swarbrick on Sunday.
She said the public haven't been listened to by the Met.
"I think the public trust and confidence has been absolutely damaged by the Sarah Everard case, understandably," she told LBC.
"I think the Met police have been pretty poor at understanding how the public would respond, and I don't think they have addressed the public concern yet.
"And I think they need to work very hard now moving forward."
Read more: Priti Patel announces £25m investment to make streets safer for women and girls
Asked what they need to do, she explained: "They need to listen to the public, they really do.
"They need to understand why the public are so angry and upset. They need to really reassure the public what they are now going to do to address the public's concern and make sure we never have a case like this again."
The Met Police came under fire on Friday after it shared new guidance for people who are suspicious of lone officers.
The advice included waving down a bus and calling 999 if you feel at "real danger" in the presence of a single officer.
Women's rights campaigners have criticised the Met for putting the onus on women, rather than addressing the issue within the force.
Patsy Stevenson, who was arrested during the vigil for Sarah Everard back in March, told Swarbrick on Sunday that Dame Cressida Dick has failed women as commissioner.
There have been further calls for the Met chief to resign following the tragic murder of Ms Everard.