Twitter's Hilarious Responses To LBC's Diane Abbott Interview
2 May 2017, 10:06 | Updated: 14 November 2017, 11:07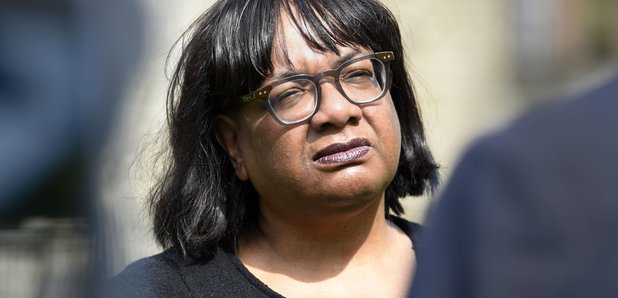 Diane Abbott's car crash interview with LBC caused waves of both hilarity and agony as people listened to it.
- Diane Abbott's Agonising Interview With LBC Over Police Funding
During the interview, the Shadow Home Secretary struggled to come up with a final cost for Labour's policy to put 10,000 more police officers on the street - at one time, claiming that each one would cost £30 per year.
This is how Twitter responded.
CCHQ: 'Agent Abbott, rein it in. We don't want to arouse suspicions.'

— Paul Richards (@Labourpaul) May 2, 2017
BREAKING: Labour's secret plan to scrap the minimum wage. https://t.co/ioCyUSpffT

— Lib Dem Press Office (@LibDemPress) May 2, 2017
Another day, more dangerous nonsense from Jeremy Corbyn's choice for Home Secretary - which you'll pay for. #chaos #dianeabbott https://t.co/gWSfSf4CM3

— Conservatives (@Conservatives) May 2, 2017
People say spending would be out of control under Corbyn, but Diane Abbott is offering to pay police officers less than 2p an hour

— Michael Deacon (@MichaelPDeacon) May 2, 2017
Tories on hearing that Diane Abbott's doing the media rounds today pic.twitter.com/quu0RizvIz

— Ben Astley (@benjastley) May 2, 2017
Never realised how much i enjoy listening to Diane Abbott do mental arithmetic. "It will cost.... it will cost... It. Will. Cost..."

— Ned Donovan (@Ned_Donovan) May 2, 2017
'Where's Diane Abbott? I'm not working for £30 a year!' pic.twitter.com/Q4tNSDd5mN

— Mo'mentum (@momentumtrumpt1) May 2, 2017
Diane Abbott is trending.

Spoiler: It isn't good news for Labour.

— rustinpeace (@rustinpeace00) May 2, 2017
There's no need for any Conservative party election broadcasts - they can just replay Diane Abbott's LBC interview in every PEB slot.

— David Vick (@DavidVick5) May 2, 2017
You can watch the interview they are all talking about below...