No10 says sorry to the Queen after lockdown-breaking party night before Philip's funeral
14 January 2022, 12:21 | Updated: 14 January 2022, 17:02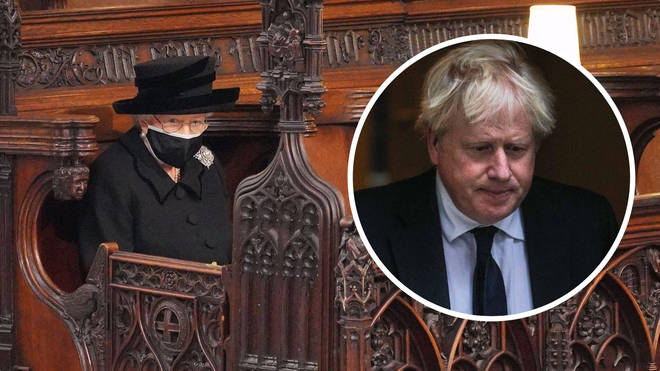 Boris Johnson has apologised to the Queen over a boozy party that took place the night before Prince Philip's funeral.
The Prime Minister's deputy spokesman said it was a "deeply regrettable" decision.
"It's deeply regrettable that this took place at a time of national mourning, and No10 has apologised to the Palace," he said.
"You've heard from the Prime Minister this week, he's recognised No10 should be held to the highest standards and take responsibility for the things we did not get right.
"We have apologised to the Palace."
Buckingham Palace declined to comment on the announcement.
It comes after Labour's Emily Thornberry called on the Prime Minister to apologise to the Queen and hand in his resignation from his role following the revelation.
Read more: Novak Djokovic set to be deported after Australia cancels his visa again
Read more: No10 staff held two boozy parties hours before Prince Philip's funeral
Asked why No10 had apologised instead of Mr Johnson himself, the spokesman said: "Well, again, the Prime Minister said earlier misjudgements have been made and it's right people apologise, as the Prime Minister did earlier this week.
"It remains the case that I can't prejudge the inquiry, which you know is ongoing, which has been led by Sue Gray, but we acknowledge the significant public anger, it was regrettable this took place a time of national mourning."
In response to the apology, Labour leader Sir Keir Starmer said the Tories had "let Britain down".
"This shows just how seriously Boris Johnson has degraded the office of Prime Minister," Sir Keir said.
"The Conservatives have let Britain down. An apology isn't the only thing the Prime Minister should be offering the Palace today.
"Boris Johnson should do the decent thing and resign."
The Queen was forced to go alone to Prince Philip's funeral due to Covid restrictions hours after No10 staff allegedly enjoyed a party.
Two leaving dos are said to have take place, one for Boris Johnson's previous director of communications, James Slack, and another for one of his personal photographers.
Mr Slack has since apologised for holding the party, saying it "should not have happened at the time that it did".
Speaking to LBC's Nick Ferrari at Breakfast, Shadow Attorney General Emily Thornberry said: "The comparison with Her Majesty is so profound. There she was, keeping to the rules, on her own as she was burying her husband.
"Completely isolated and embodying, in many ways, the trauma that we as nation were going through."
She went on: "Compare that with these people at No10 who just think they can laugh at us and party away. It's disgusting."
"All that No10 can say is 'oh well the Prime Minister wasn't there' - so what?
"The culture was set by the Prime Minister and, if he has an ounce of decency, the next meeting he has with the Queen should be one whereby he goes in, he apologises to Her Majesty, and he resigns."
Earlier, Security minister Damian Hinds told LBC he was also "shocked" by the revelation.
Speaking to Nick, Mr Hinds said: "My reaction was shock. We all remember that time - we all remember that evening - it was a very solemn time in our country.
"Well not inside No10, minister," Nick hit back.
"It was a bacchanalian feast the night before we bade farewell to the Duke of Edinburgh," he added.
Mr Hinds said: "We have an investigation ongoing into events - plural - and it's right that it should cover all gatherings including this one and I gather it will.
"It's always been clear that whatever comes out of that investigation, action can be taken but we need to know what the outcome of that investigation is before noting what - if any - is the right action."
Foreign Secretary Liz Truss said people should "move on" from the scandal, following the Prime Minister's apology in the Commons on Wednesday.
Mr Johnson admitted that he attended a different party, which took place in May 2020.
However, he insisted the "bring your own booze" do at Downing Street was instead a "work event", which he attended for 25 minutes.
His admission saw an uproar from Brits, who had been unable to meet loved ones due to Covid restrictions in place at the time.
Ms Truss said: "He has apologised, I think we now need to move on and talk about how we are going to sort out issues.
"I've spent the last 24 hours with the EU, talking about sorting out the situation for the people of Northern Ireland.
"And we now need to get on with that and, of course, wait for the results of the Sue Gray inquiry."
She added: "I completely understand people's anger and dismay about what has happened.
"The Prime Minister apologised to the House on Wednesday, I 100% support him to continue getting on with the job."
Staff are accused of drinking and dancing until the early hours of April 16.
One staff adviser was the DJ at the event and another was sent to a local Co-op with a suitcase to buy bottles of wine and smuggle them in to the party, the Telegraph reported.
The paper also said that one of the partygoers broke Mr Johnson's baby son Wilf's swing.
The country was under strict 'Step Two' rules at the time, which meant mixing indoors was banned.
The guidance was: "You must not socialise indoors except with your household or support bubble. You can meet outdoors, including in gardens, in groups of six people or two households."