Sajid U-turns as mandatory vaccines for NHS and social care staff to be scrapped
30 January 2022, 23:16 | Updated: 31 January 2022, 19:03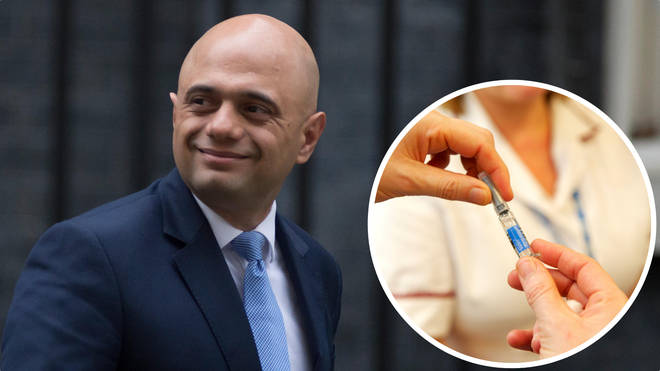 Health Secretary Sajid Javid has announced a consultation on scrapping the requirement that all NHS and social care staff in England are fully vaccinated against Covid.
The Health Secretary announced the latest Government U-turn on Monday, following pressure from the health service, the care industry and MPs over fears it would lead to a major staffing crisis.
Frontline health workers had been given until April 1 to get both jabs - but there are concerns it would cause serious staffing shortages.
The decision is the result of the Omicron variant - which is generally much milder than previous ones - as well as warnings that the workforce could lose 80,000 members, a potentially crippling loss for an already strained health service.
Speaking in the House of Commons, Mr Javid said: "While vaccination remains our very best line of defence against Covid-19, I believe that it is no longer proportionate to require vaccination as a condition of deployment through statute.
"So I'm announcing that we will launch a consultation on ending vaccination as a condition of deployment in health and all social care sectors. Subject to the responses and the will of this House, the Government will revert the regulations."
Mr Javid defended the policy of initially introducing mandatory Covid vaccines, insisting the Government "makes no apology for it".
Read more: Crunch week for Boris as partygate report due and controversial tax hike confirmed
Read more: Boris Johnson is a 'security risk', former home secretary tells LBC
He told MPs there was a need to consider the impact on the workforce in NHS and social care settings, "especially at a time where we already have a shortage of workers and near full employment across the economy".
He added: "In December I argued, and this House overwhelmingly agreed, that the weight of clinical evidence in favour of vaccination as a condition of deployment outweighed the risks to the workforce.
"It was the right policy at the time, supported by the clinical evidence, and the Government makes no apology for it. It has also proven to be the right policy in retrospect, given the severity of Delta."
Read more: Govt accused of 'extreme negligence' after spending £0.5b on PPE that can't be used
Read more: Laurence Fox reveals he has Covid days after claiming he did not need to be vaccinated
The NHS vaccine mandate, announced in November, would have required all staff to be fully-vaccinated against coronavirus by April.
It means they would need to get their first jab by this Thursday February 3.
The vaccine mandate for care home staff came into effect in November.
If scrapped, the estimated 40,00 people who lost their jobs over the policy would be able to return.
The Government has recently scrapped all Plan B restrictions as a result of the Omicron variant being milder than ones that preceded it.
Work from home guidance, mask mandates and vaccine passports have all been ditched in response to the strain.
The announcement came hours after Sue Gray's highly-anticipated partygate report was published, with Boris Johnson issuing an apology and stressing he "will fix it".