'Never seen anything like it': Two children and two women die in London house fire
19 November 2021, 00:36 | Updated: 19 November 2021, 11:21
A neighbour has told LBC how an entire house instantly burst into flames in a south-east London blaze which killed two children and two women last night.
The eyewitness said one of the children was a baby, and the other school age, and that their father had collapsed in shock outside.
"I have never seen anything like it," he said. "I was in shock all night."
The four victims, who are all believed to have been related to each other, had been rescued from the first floor of the building but all died at the scene in Hamilton Road, Bexleyheath.
London Fire Brigade commissioner Andy Roe said afterwards that the blaze was "truly terrible".
The neighbour told LBC he had returned home at about 8.30pm to find people standing in the street before fire crews had turned up.
"[Their] house was on fire and the dad was standing outside. He collapsed on the floor and then the whole house burst into flames. I've never seen anything like it. We couldn't do anything."
He said every window in the property had shattered in the fire.
"Everyone was in shock. There were people starting to try to get in but they couldn't, they just couldn't. He [the father] was trying to get in as well. The fire brigade turned up in their droves and they put it out very quickly.
"I got up this morning and realised they had died. I went to bed at 1am. I was in shock all night. I woke up this morning and my girlfriend told me. I felt sick. We had been working on the house so had seen [the family] yesterday morning.
"It was a lovely family, they moved in about five months ago. I think they rented there."
Six fire engines and about 40 firefighters attended the scene after being called at about 8.30pm. The blaze was extinguished by 9.45pm.
London Fire Brigade is now investigating the cause of the fire, which the Met Police has said is not thought to be suspicious. There have been no arrests.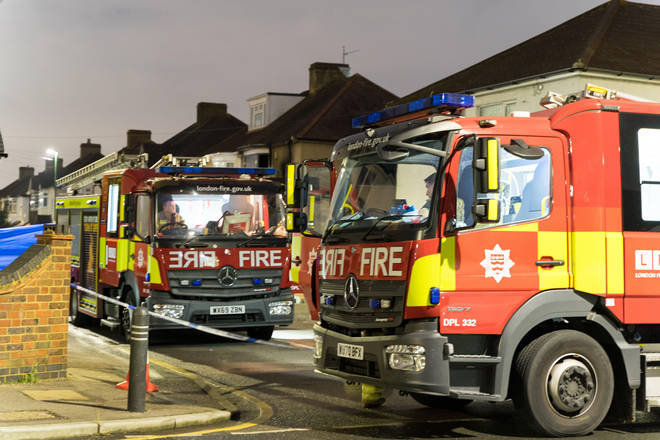 The force added a man is in hospital with injuries to his legs. His condition is not thought to be life-threatening. A further person was taken to hospital having arrived at the scene.
The victims' next of kin are receiving specialist support, the Met added.
Mayor of London Sadiq Khan said he was "heartbroken" at the news, and that "my heart goes out to all their loved ones and the local community at this awful time".