Fuel industry: 'There is plenty of fuel' with 'normal' demand expected in coming days
27 September 2021, 16:53 | Updated: 27 September 2021, 18:09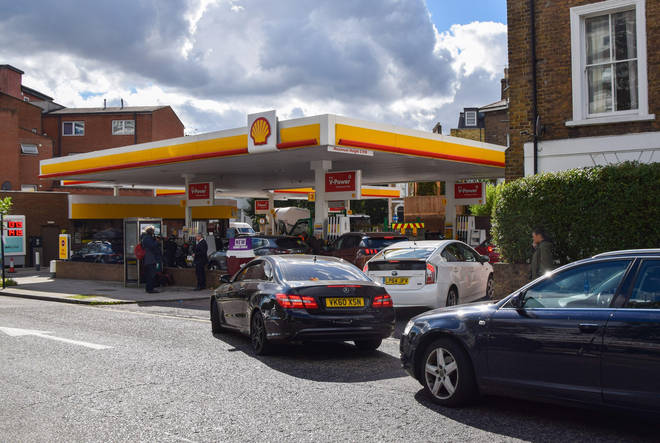 The UK fuel industry has insisted "there is plenty of fuel" available and demand is expected to "return to its normal levels in the coming days".
BP, Shell and Esso are among those to have issued a joint statement stressing that it is working with the Government to ensure there is enough fuel accessible to drivers across the country.
In the statement issued by the department for Business, Energy and Industrial Strategy, said: "There is plenty of fuel at UK refineries and terminals, and as an industry we are working closely with the government to help ensure fuel is available to be delivered to stations across the country.
Read more: 'You couldn't pay me enough': Lorry driver explains why no one wants to drive trucks in UK
Read more: Ambulance driver bombarded with abuse on petrol station forecourt while filling up
"As many cars are now holding more fuel than usual, we expect that demand will return to its normal levels in the coming days, easing pressures on fuel station forecourts. We would encourage everyone to buy fuel as they usually would.
"We remain enormously grateful to all forecourt staff and HGV drivers for working tirelessly to maintain supplies during this time."
The statement comes as the Government falls under increasing pressure to give key workers priority at petrol stations after a weekend of panic buying sparked by supply chain disruption.
Pumps ran dry across the country and customers faced long queues to fill up.
Read more: Panic at the pumps: Calls for 999 heroes to queue-jump as fuel crisis cripples country
Read more: Fuel crisis feared to last three more days, with thousands forced to work from home again
Mayor of London Sadiq Khan urged the Government to take "the necessary steps" to ensure petrol went to key workers first.
"As the current reductions in fuel delivery affect petrol stations across the capital, it is essential that key workers are able to get fuel to travel to work and provide the services our city needs," said Mr Khan.
"In the fuel crisis of September 2000, the government brought in rules designating specific filling stations for essential workers, enabling the capital to keep moving.
"The Government must urgently look at taking the necessary steps putting such measures in place, so that those key workers who have to drive to work can do so.
"We will continue to monitor developments closely and advise the Government on required actions."
The fuel crisis began last week, when BP warned the Government it would not be able to manage all its fuel deliveries because of a lack of lorry drivers.
The shortage of HGV drivers has been an issue for months and has affected many industries, from hospitality to healthcare.
The warning sparked panic, causing a spike in demand that put more pressure on the industry.