Sajid Javid warns of 'tough winter' as No10 'closely' monitors new covid variant
19 October 2021, 14:11 | Updated: 19 October 2021, 23:47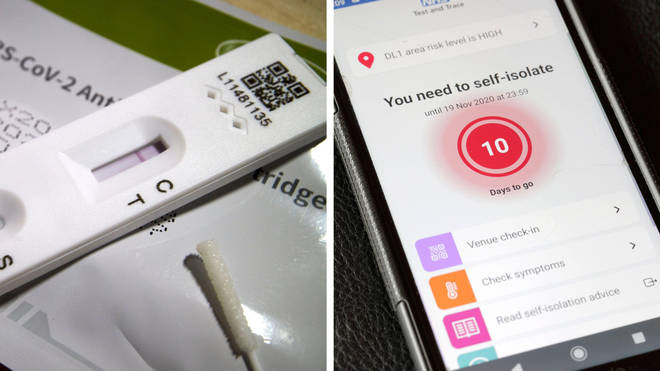 Sajid Javid told MPs this afternoon the vaccine programme is "ramping up" as Covid infections rise but that the NHS is facing a "particularly tough winter."
He warned there are "shortages" of staff to respond to 999 and 111 calls, telling MPs there is "huge pressure" on the health service in England.
The health secretary today announced all 12 to 15-year-olds will be able to book vaccines on the national booking service to "make the most of the half-term".
Mr Javid insisted a winter plan developed with NHS officials will be unveiled in the next couple of weeks, and defended the jab rollout, amid concerns over a lack of uptake from youngsters.
Read more: UK must lead climate action because it 'knitted the deadly tea cosy' of climate change - PM
Read more: Tory MP calls for 'David's law' to crack down on anonymous abuse online
On Tuesday, the Government said a further 223 people had died within 28 days of testing positive for Covid-19 - bringing the UK total to 138,852.
While the numbers are often higher on Tuesdays because of a lag in reporting deaths and cases over the weekend, this is the highest figure for daily reported deaths since March 9.
Meanwhile, the seven-day average for cases is standing at 44,145 cases per day - the highest level for almost three months.
The UK now has one of the highest weekly rates of new reported cases in the world.
The weekly rate of new reported cases of Covid-19 in the UK has jumped from 367 cases per 100,000 people at the start of October to its current level of 463 per 100,000.
By contrast, rates have dropped to very low levels in neighbouring countries such as Spain (24 per 100,000), France (48) and Germany (80).
On Tuesday, Professor Neil Ferguson, a leading member of the Scientific Advisory Group for Emergencies (Sage), said he thinks "Plan B" could be implemented in England this winter, but it is unlikely "we'll ever get close" to the lockdown the country experienced in January.
He added that the UK is no longer in the top rank of European countries in terms of overall vaccination coverage, particularly in vaccinating teenagers.
Just over 67% of the UK population has received two doses of vaccine, according to Government figures - compared with at least 75% in Denmark, 79% in Spain and 86% in Portugal.
Meanwhile, Downing Street also announced today they are "keeping a close eye" on a mutation of the Delta coronavirus variant - named AY.4.2 and which some are calling "Delta Plus" - but insisted there is no evidence it spreads more easily.
The Prime Minister's official spokesman said: "We have seen case rates rising, we've started to see some indications that hospitalisations and death rates are increasing also.
"Clearly we're keeping a very close eye on rising case rates, the most important message for the public to understand is the vital importance of the booster programme and indeed for those children who are eligible to come forward and get our jab.
"We're seeing some groups come forward slightly more slowly than they did perhaps when they were getting their first or second vaccination and it's important that the public understand that getting your booster jab is just as important as getting your first and second dose, and we need individuals to come forward because it is a huge benefit to them and wider society."
When asked whether Downing Street would consider rolling out a Plan B to control the virus this winter, they added: "No... It remains the case we would only look to use that if the pressure on the NHS was looking to become unsustainable."