Govt slammed for 'betraying the North' as HS2 Leeds leg scrapped
18 November 2021, 11:18 | Updated: 18 November 2021, 16:33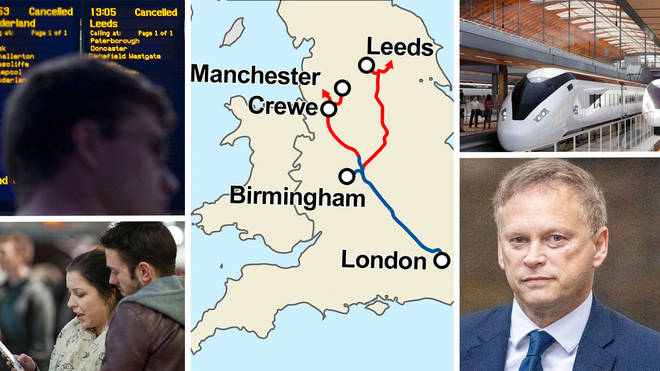 The eastern leg of HS2 to Leeds has been scrapped and a full high-speed east-west line linking Manchester to Leeds will not be built, the government has confirmed.
It marks a scaling back of long-awaited railway plans for the North and Midlands, which were announced by Grant Shapps today.
Mr Shapps confirmed that the eastern leg of HS2 was being scrapped while the planned Northern Powerhouse Rail (NPR) was being curtailed.
Bradford has been missed out from the NPR, as the plans originally envisioned.
Instead, the route between Leeds and Manchester will be half made up of a new high speed line, with the other half consisting of upgrades to existing track.
The transport secretary said the £96 billion "integrated rail plan" would slash journey times across the region with 110 miles of new high-speed line.
But Labour said the package unveiled in the House of Commons abandoned previous assurances given on the extension of HS2 and Northern Powerhouse Rail – and described the announcement as a "great train robbery".
Shadow transport secretary Jim McMahon added that the government has "betrayed" the North.
Read more: Raab denies levelling up promise is being broken as HS2 Leeds leg scrapped
West Yorkshire mayor Tracy Brabin said the rail plan was a "betrayal of the North" and a "betrayal of the Government's levelling-up promise".
The Labour mayor said it was a "20th century upgrade to 19th century infrastructure" rather than the promised new lines.
She said the plan "doesn't deliver HS2 in full to Leeds, it doesn't deliver a high-speed line across the Pennines with that crucial city stop in Bradford, it does not support our ambition as northern leaders for a stronger, fairer and better-connected North for all".
"Whitehall seems not to have listened to northern voices. HS2 will now stop short of Yorkshire and the high-speed Northern Powerhouse Rail will stop at the border. This is not levelling up."
SNP transport spokesman Gavin Newlands said: "I do admire the secretary of state's chutzpah for the most bullish U-turn I've yet seen in this place."
Mr Shapps had told MPs: "I've heard some people say that we're just going about electrifying the TransPennine route – this is wrong.
"What we're actually doing is investing £23 billion to deliver Northern Powerhouse rail and the TransPennine route upgrade, unlocking east-west travel across the north of England.
"So, in total, this package is 110 miles of new high-speed line, all of it in the midlands and the north. "It's 180 miles of newly-electrified line, all of it in the midlands and the north."
Read more: Raab denies levelling up promise is being broken as HS2 Leeds leg scrapped
He added: "We'll upgrade the east coast mainline with a package of investment on track improvements and digital signalling, bringing down journey times between London, Leeds, Darlington, Newcastle and Edinburgh – bringing benefits to the North East much, much sooner than under the previous plans."
Mr Shapps also said: "We'll study how best to take HS2 trains into Leeds as well."
This story is being updated