Texas school pupils' harrowing 911 calls emerge as official says cops 'wrong not to go in'
27 May 2022, 09:08 | Updated: 27 May 2022, 19:06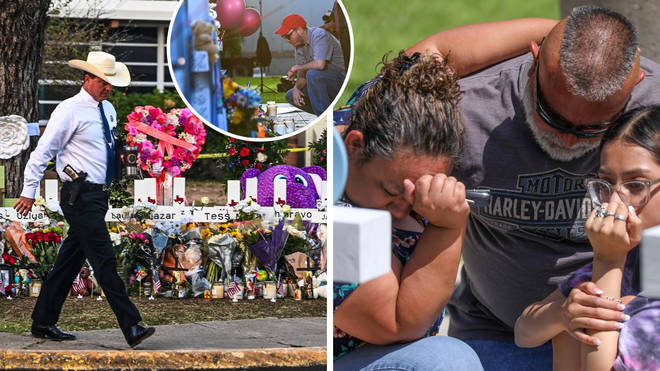 Police should have stormed the Texas school where a gunman killed 21 people, the head of the state's public safety department has admitted - branding the choice not to as the "wrong decision".
His admission follows another official's revelation that police did not rush into the Robb Elementary in Ulvade because they feared they could be shot.
Instead, 20 officers "contained" him in the classroom where he killed 19 children and two teachers, before Border Patrol agents opened the door with a master key and shot him dead.
A harrowing recounting of a child's call to 911 also emerged as Texas Department of Public Safety Director Steven McCraw admitted the decision not to go in to the school was wrong.
He said the commander at the scene believed they were no longer dealing with an active shooter, and instead had a "barricaded subject" in a classroom.
He said: "Obviously there were children in that classroom that were at risk and it was, in fact, still an active shooter situation.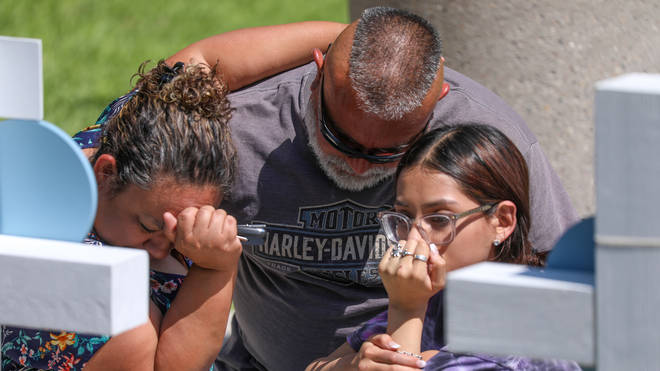 "From the benefit of hindsight, of course, it was not the right decision, it was the wrong decision."
He went on: "What do I have to say to the parents? I don't have anything to say to the parents, other than what has happened.
"We are not here to defend what happened. We are here to report the facts."
He added, in response to a reporter: "If I thought it would help, I would apologise."
An emotional Mr McCraw also read calls to 911 from pupils throughout the school. He did not reveal one girl's name, but said she told police that people were dead.
A girl called but was told to hang up by another student. A later call from a schoolgirl said: "Please send the police now." She said she could hear police outside the door.
Earlier, when challenged over the outcry at how police responded to the shooting, Lieutenant Chris Olivarez, of the Department of Safety said: "In the active shooter situation, you want to stop the killing, you want to preserve life.
"But also one thing that, of course, the American people need to understand is that officers are making entry into this building.
"They do not know where the gunman is. They are hearing gunshots. They are receiving gunshots."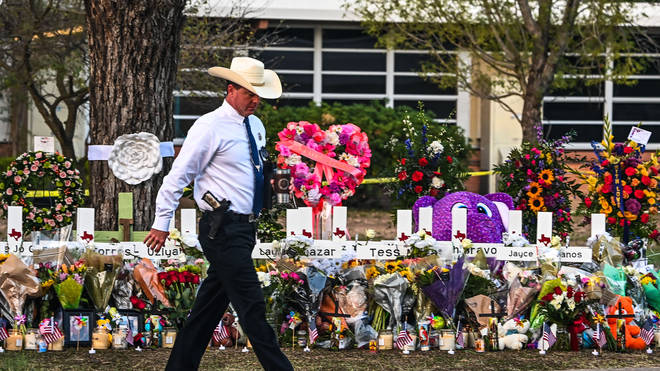 Lt Olivarez told CNN: "At that point, if they proceeded any further not knowing where the suspect was at, they could've been shot, they could've been killed, and at that point that gunman would have had an opportunity to kill other people inside that school.
"So they were able to contain that gunman inside that classroom so that he was not able to go to any other portions of the school to commit any other killings."
He spoke after it emerged the teenage gunman, Salvador Ramos, was able to get into the school unobstructed and no armed guard challenged him. It was unclear if the school door was locked.
Police had previously said he barricaded himself in the classroom, leaving officers to struggle to get inside.
Ramos shot dead 19 students and two teachers, and injured at least 17 more people, on May 24.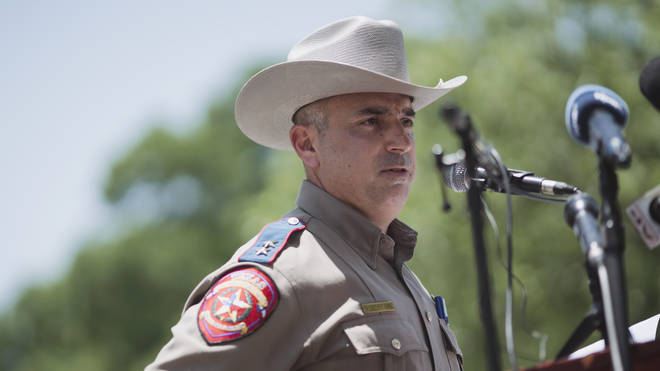 Experts lambasted Lt Olivarez's comments.
"Waiting an hour is disgusting. If that turns out to be true, then it is a disgusting fact," Sean Burke, the president of the School Safety Advocacy Council, told NBC.
Don Alwes, a former instructor at the National Tactical Officers Association, said: "The expectation is that if someone is about to harm someone, especially children, you've got to take immediate action to make that stop."
Texas Ranger Victor Escalon said initial reports that Ramos shot a guard were incorrect, and there was in fact no armed guard at the school when the gunman got there.
Police entered the school four minutes after the gunman, but it was an hour later before he was killed in a shootout, at 12.45, after US Border Patrol tactical teams arrived.
"They [didn't] make entry immediately because of the gunfire they were receiving," Mr Escalon told reporters.
Police are facing new criticism over their handling of the shooting.
Read more: Emotional Meghan Markle lays flowers during surprise visit to Texas shooting memorial
Read more: Widower of teacher shot dead in Texas massacre dies 'of broken heart' days after shooting
One mother, Angeli Rose Gomez, told the Wall Street Journal: "The police were doing nothing. They were just standing outside the fence. They weren't going in there or running anywhere."
She was handcuffed at the scene and told she was under arrest for intervening in an active investigation.
She went on to jump the school fence and managed to rescue her children herself.
She said she saw other parents who were trying to get to their kids being tackled and even pepper-sprayed by police.
Javier Cazares' fourth grade daughter Jacklyn Cazares was also killed in the attack.
Cazares told the Associated Press that he raced to the school when he heard about the shooting, arriving while police were still gathered outside the building. 
Upset that police were not moving in, he raised the idea of charging into the school with several other bystanders.
'Let's just rush in because the cops aren't doing anything like they are supposed to,' he said. 'More could have been done.'
'They were unprepared,' he added. 
Shocking footage has emerged on social media showing police holding parents back. Parents can be heard begging cops. "What are you doing!? Get inside the building!"
The motive for the massacre - the nation's deadliest school shooting since the 2012 attack in Newtown, Connecticut - remained under investigation, with authorities saying the 18-year-old gunman had no known criminal or mental health history.
The rampage rocked a country already weary from gun violence and shattered the community of Uvalde, a largely Latino town of some 16,000 people about 75 miles from the Mexican border.
The gunman was inside the classroom for more than an hour before he was killed in a shootout with law enforcement, authorities said.
"Mrs Irma Garcia was my mentor when I began teaching," her colleague Allison McCullough wrote when Ms Garcia was named teacher of the year.
"The wealth of knowledge and patience that she showed me was life changing."
The killings have reignited the debate about gun control in the US.
The second amendment of the US constitution guarantees the right to keep and bear arms but campaigners want to see varying degrees of restrictions on gun ownership.
Successive mass shootings, many taking place in schools, have raised questions over why any civilian would need an assault rifle and military-style weaponry.
Supporters of gun ownership have promoted ideas such as hardening schools, deploying trained armed guards to protect them, an idea often ridiculed and again derided as the wrong answer in the wake of this shooting.
Gun right advocates have accused opponents of politicising the issue while campaigners say the violence will continue until new legislation is put in place.
The massacre came just days before Friday's National Rifle Association [NRA] convention in Houston, less than 300 miles east from where the school shooting took place.
The powerful NRA has been instrumental in lobbying politicians to watering down and opposing gun control laws.
Tensions were on full display on May 25, when Texas governor Greg Abbott was yelled at by political rival Beto O'Rourke during a press conference.
Mr O'Rourke, a Democrat who is running for governor, remonstrated with his Republican opponent after a spate of mass shootings in Texas.
"The time to stop the next shooting is now, and you are doing nothing," he said.
"You said this was not predictable, this was totally predictable, and you choose not to do anything."
He was told he was "out of line and an embarrassment" by one speaker, while Texas senator Ted Cruz, who is also due speak at the Friday NRA convention, told him to "sit down".
Earlier in the week, President Joe Biden the country had to act and added: "As a nation, we have to ask, 'When in God's name are we going to stand up to the gun lobby?'"