'Just leave us to grieve': Bereaved anti-vaxxer's family calls for trolling to stop
8 August 2021, 11:15 | Updated: 8 August 2021, 11:26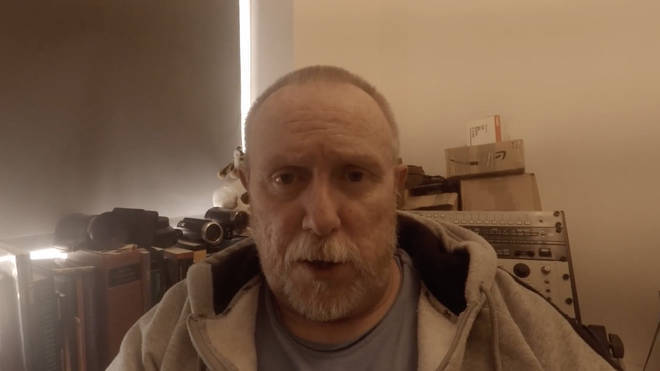 The grieving stepdaughter of an anti-vaxxer has called on trolls to leave her family alone after news broke of his death.
Leslie Lawrenson, a 58-year-old solicitor, died at his home in Bournemouth on 2 July after he criticised vaccines as too "experimental" and refused to take one.
His partner Amanda Mitchell has since said she wants other families to avoid suffering a similar tragedy.
Now, speaking on LBC's Swarbrick on Sunday, his stepdaughter Carla Hodges said: "It's been really tough - since Thursday people are trolling his Facebook account… there's just more comments, more hate and Mum's getting messages and notifications and tagged in stuff.
"They're calling him a killer, they're calling the family killers and it's just not the truth.
Read more: Anti-vaxxer died from Covid after reading online posts that jabs were too 'experimental'
Read more: Medics plead for people to get jabs in powerful calls after "needless" anti-vaxxer deaths
"He caught COVID through no fault of his own, and unfortunately he did have those views on the vaccine and he's paid the full price.
"I don't know what people want from us or from him now. I don't understand why we need to have these comments - just please leave us alone.
"We're trying to do the right thing now, promote people to take the vaccine, just leave us to grieve, if you don't agree his views just move on."
Ms Hodges, who is vaccinated and disagreed with Mr Lawrenson's views, said she did not want to end up falling out and accepted it was his decision to refuse vaccination.
In videos he posted to Facebook, he said he had Covid symptoms which felt "no worse than a cold".
Read more: Jennifer Aniston defends 'cutting off' friends who are anti-vaxxers
On June 24 he said he had "very high temperature, aches, pains and shivers" and he hoped he had the disease because "rather the antibodies than the jabs".
The next day, he confirmed he had tested positive, and he died days later.
Also speaking to Tom Swarbrick, Ms Mitchell said she felt scared to have a vaccine as Mr Lawrenson researched the jabs and asked family every day not to have dose. However, she was also worried about not getting vaccinated because she is diabetic.
An intelligent Cambridge graduate, Mr Lawrenson got his information on vaccines online and Ms Mitchell felt he couldn't have made a mistake in his research.
Ms Mitchell told Ms Hodges about her hesitancy, and Ms Hodges was "horrified" to hear about it.
As Ms Mitchell began to rethink her hesitancy, her and Mr Lawrenson caught Covid.
She had to go to hospital and became seriously ill before recovering with medical help.
She admitted she was "very lucky" to survive it and only sought medical help when her children intervened.
Mr Lawrenson was "more concerned" about her but both believed they were "on the mend" before he died at home.
"He was intelligent so I'd hope he would make the right choices, this one he made a total misjudgement on it, definitely," she said.
"I don't think the word tricked is particularly fair but he definitely was misled into thinking along the wrong path."
Ms Mitchell aded that she will get a vaccine when medics allow it, and is unable to while she is on antibiotics as part of her recovery.
Ms Hodges said that Facebook had not helped the family with the trolling and added: "I just didn't expect it, we're trying to do the right thing now, we're not advocating or agreeing with his views at all.
"Obviously, we're the opposite of him."
Facebook was contacted for comment.