When can I get the Covid vaccine? Online calculator estimates when you're likely to get the coronavirus jab
20 April 2021, 12:08 | Updated: 21 May 2021, 08:54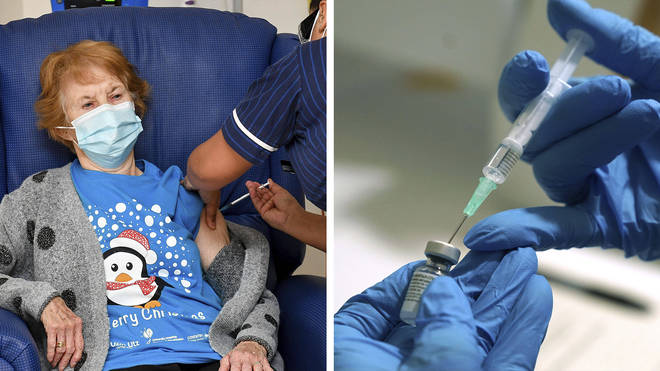 An online vaccine calculator has launched which estimates when you are likely to get the Covid-19 vaccine.
With the coronavirus vaccine having rolled out across the UK, many have been asking when it will be their turn to get the jab? And an online Covid vaccine calculator has been helping those in England get an estimated date for their immunisation.
The Pfizer/BioNTech, Oxford/AstraZeneca and Moderna jabs are being used in centres across the country, with over 32 million people in the UK having received their first dose of the vaccine and over 10 million having received their second dose of the vaccine.
The Government has now hit its target of offering a vaccine to people in the top nine priority groups - older care home residents and care staff, frontline health and social care workers, people aged over 50 and people who are clinically extremely vulnerable.
The Omni calculator asks a series of questions about your age, health and situation to work out what place you might be in the queue to receive the jab.
The calculator then tells the user where they stand in terms of getting the vaccine.
It's worth pointing out the calculator is not an official NHS product and is not connected to the vaccine roll-out program.
The first mass vaccination centres opened in England on January 11 as the huge effort to protect the most at-risk people got a shot in the arm.
Queues formed outside the sites early that morning as nurses prepared to vaccinate thousands at socially distanced tables or cubicles.
Professor Stephen Powis, NHS England national medical director, said the site planned to vaccinate at least 500 people on Monday, and would be "ramping it up in the coming days".
The new centres - including at a football stadium and a tennis club - will be joined by hundreds more GP-led and hospital services along with the first pharmacy-led pilot sites, taking the total to around 1,200, NHS England said.
The Government is aiming to offer a vaccination to 15 million vulnerable people in the UK - including the over-80s, care home residents and health and care staff - by the middle of February.
Professor Neil Watson, who is running the coronavirus vaccination programme in the North East and Cumbria, said the launch was the "next gear" in the vaccine rollout.
Prof Watson said: "We will be seeing across the country in each of the centres thousands of patients coming through on a weekly basis, which is a step change."