Military deployed to help massive Covid vaccine effort as UK fights Omicron variant
30 November 2021, 16:18 | Updated: 30 November 2021, 19:47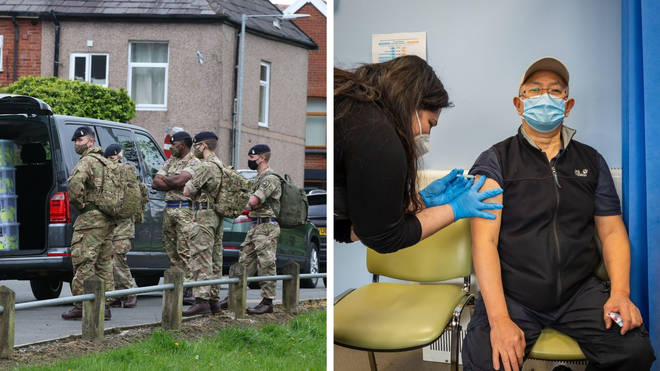 Boris Johnson has called in the military to help the NHS as he bids to tackle the Omicron variant.
About 400 forces personnel will be dispatched to help the health service alongside the "volunteer army" of vaccinators.
It comes as the UK tries to offer every adult a Covid booster jab to bolster their protection from Covid and the Omicron variant.
Speaking at a Downing Street press conference, Mr Johnson said: "We're going to be throwing everything at it, in order to ensure that everyone eligible is offered that booster in just over two months.
"Across England, we will have more than 1,500 community pharmacy sites vaccinating people near where you live.
Read more: Omicron: All adults to be offered Covid booster jab by end of January, PM confirms
Read more: Eight more cases of the Omicron variant found taking UK total to 22
"All of our sites will increase their capacity, and we'll stand up extra hospital hubs on top of those already active.
"There will be temporary vaccination centres popping up like Christmas trees.
"And we'll deploy at least 400 military personnel to assist the efforts of our NHS, alongside, of course, a fantastic jabs army of volunteers."
Read more: We won't impose Plan B despite Jenny Harries' gloomy Omicron comments, Boris says
Although experts, who are racing to learn more about the variant, are worried jabs may prove less effective against it, they are still the best defence against serious illness.
Mr Johnson's comments come on the same day Mr Johnson reimposed some measures to try and slow the spread while scientists study Omicron.
This includes compulsory face masks on public transport and in shops, a new rule requiring UK arrivals to isolate until they get a negative Covid test, and a requirement for anyone who is a contact of an Omicron case to quarantine regardless of age or vaccination status.
The measures will be reviewed in three weeks and are designed to be temporary, to buy time for experts to work.
Earlier on Tuesday, he confirmed there was no intention to impose "Plan B" - a package of tougher contingency restrictions.
The UK has now confirmed 22 cases in total - 13 in England and nine in Scotland. The Scottish cases have all been linked to the same private event.