27 migrants die in Channel crossing after 'floating death trap' dinghy deflates
24 November 2021, 19:00 | Updated: 25 November 2021, 13:45
27 migrants have died, including seven women and three children
A number of suspected people smugglers have been arrested in France
Rescuers fear the dinghy might have been hit by a container ship
Priti Patel said the tragedy was a "dreadful shock, but not a surprise"
Boris Johnson said he is "appalled" by the deaths and vowed to crush people trafficking gangs
He said they were "literally getting away with murder" and admitted current efforts have not been enough
He called on France to agree to joint police patrols along the French Channel coast
Emmanuel Macron has agreed to cooperate with the UK to "better integrate" moving forward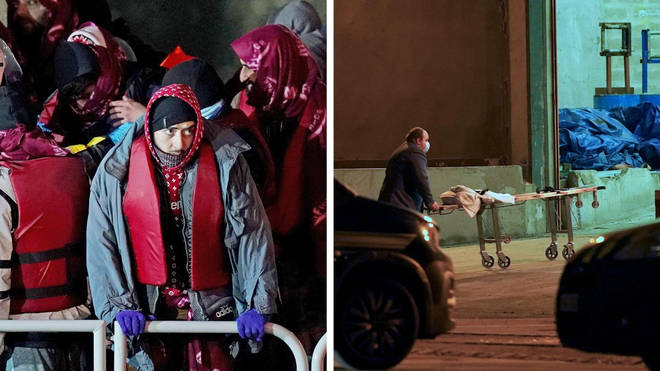 The Home Secretary has said there is "no quick fix" after 27 migrants including three children, seven women and 17 men died in a "floating death trap" which capsized in the Channel.
The migrants drowned on Wednesday after their boat heading for the UK capsized in the Channel near Calais, the French Government said.
Speaking to MPs on Thursday, Home Secretary Priti Patel said what happened yesterday was "a dreadful shock" but "not a surprise".
"It is also a reminder of how vulnerable people are put at peril when in the hands of criminal gangs," Ms Patel said.
She described the crossings as "lethally dangerous" and said given the chance "traffickers will always find people to exploit and manipulate".
Read the latest updates: More migrant rescues hours after 27 people, including children drown in Channel
Ms Patel reiterated the need to "tackle issues upstream" instead of waiting until people have reached EU countries - pleading for a "Herculean effort" from other nations.
Speaking of the criminals behind the dangerous crossings, Ms Patel said: "They have a complete disregard for human right.
"We have to break their business model and bring them to justice."
France's prime minister said the shipwreck on Wednesday - which is thought to be the worst migrant death toll in the Channel - was a "tragedy" and his thoughts were with "victims of criminal smugglers who exploit their distress and injury".
Bernard Barron, president of the SNSM rescue service in Calais, labelled the incident as a "group murder", describing the dinghy as a "floating death trap" that was only meant to hold a maximum of 10 people.
French interior minister Gerald Darmanin said the boat was "very frail", adding it was "like a pool you blow up in your garden."
Read more: RNLI receive outpouring of support for migrant rescue efforts after latest Channel tragedy
Read more: 'Not just a British problem': UK ready to send ground support to France, minister says
A regional daily newspaper claimed the boat had "collided with a large ship" which it said was a "container ship".
A number of suspected people smugglers are currently in custody in Calais after being arrested north of Dunkirk near the Belgian border.
Two men escaped from the inflatable craft. Seven of the victims were women, including one expecting a baby.
Survivors have also indicated a container ship collided with them, causing their boat to deflate.
Three children were said to be among those killed.
Boris Johnson said he is "shocked, appalled and deeply saddened" about the deaths and chaired an emergency Cobra meeting on Wednesday evening in response.
He said: "Now is the time for us all to step up… to do everything we can to break these gangs who are literally getting away with murder."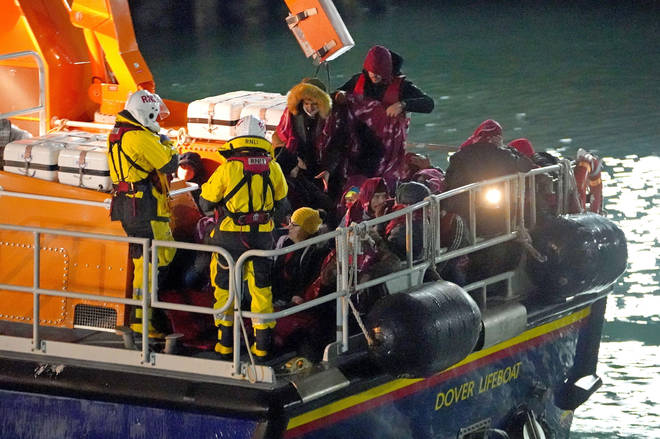 Mr Johnson and French president Emmanuel Macron said they would urgently step up efforts to stop the crossings, and that "all options" are on the table to stop the crossings.
The Prime Minister is said to have renewed a previous offer to send UK police and Border Force officers to mount joint patrols with the French along the coast, according to immigration compliance minister Tom Pursglove.
However, the French have previously resisted amid concerns about the implications for their national sovereignty.
Mr Macron has since agreed to cooperate with the UK more moving forward.
Read more: Minister denies Priti Patel is 'failing' to sort out migrant crisis
Read more: Migrant Channel crossings could hit 'epidemic' levels, warns ex-Border Force chief
He said: "We are going to ask for extra help from the British because all these men and these women don't want to stay in France. We tell them they're obviously able to do so, and there are centres in Calais and Dunkirk where they can go, but we're going to reinforce in fact saving them at sea.
"But basically... we've got to develop things in a far stronger way, we've got to reinforce co-operation - co-operation (with) Belgium, Holland, Germany, but also Britain and the (EU) Commission.
"So that's the decision that's been made... a series of meetings will... take place with the Home Office minister in the next hours, in the next days.
"We want to better integrate also the British to prevent these flows by dismantling the networks of... we've done so in the last few weeks."
French Interior Minister Gerald Darmanin confirmed that four people had been arrested in connection with the sinking.
It is feared this number could rise, as French politician Franck Dhersin said on Twitter that the boat had more than 50 people aboard.
Mr Darmanin, criticised the "criminal nature of the smugglers" who organise the crossings.
He said in a Tweet: "Strong emotion in the face of the tragedy of several deaths due to the capsizing of a migrant boat in the English Channel.
"We cannot say enough about the criminal nature of the smugglers who organise these crossings."
French prime minister Jean Castex said the shipwreck was a "tragedy".
"My thoughts are with the many missing and injured, victims of criminal smugglers who exploit their distress and injury," he said.
A rescue operation is still underway off the coast of Calais, with British authorities involved.
The marinetraffic app, which shows the position of vessels in the area, showed three rescue boats and one helicopter at sea in one single location.
One fisherman, Nicolas Margolle, told Reuters he had seen two small dinghies on Wednesday, one with people onboard and another empty.
Labour leader Sir Keir Starmer said: "For lives to be lost in such dangerous and desperate circumstances is a devastating and heartbreaking tragedy.
"The UK Government, France and the wider international community have a duty to prevent people from being forced into such peril."
Dover MP Natalie Elphicke described the incident as "an absolute tragedy".
"It underlines why saving lives at sea starts by stopping the boats entering the water in the first place.
"As winter is approaching the seas will get rougher, the water colder, the risk of even more lives tragically being lost greater.
"That's why stopping these dangerous crossings is the humanitarian and right thing to do."
Read more: Yvette Cooper reveals English Channel migrant drone patrols only happen on weekdays
Read more: Brits 'have had enough' as record-breaking 1,200 migrants cross Channel in one day
The deaths come as Home Secretary Priti Patel continues to face scrutiny for her handling of the crisis.
Following the incident, Ms Patel tweeted: "My thoughts are with the families of all of those who have tragically lost their lives in French waters today.
"It serves as the starkest possible reminder of the dangers of these Channel crossings organised by ruthless criminal gangs.
"It is why this Government's New Plan for Immigration will overhaul our broken asylum system and address many of the long-standing pull factors encouraging migrants to make the perilous journey from France to the United Kingdom.
"We will continue to intensify all cooperation with France and other European partners to prevent migrants embarking on these deadly journeys."
In recent days, government ministers have been forced to deny that Ms Patel is "failing", despite the Home Secretary admitting the Liverpool terror suspect was able to exploit Britain's "dysfunctional" asylum system.
More than 25,700 people have made the dangerous journey to the UK in small boats this year - three times the total for the whole of 2020.
This story is being updated