Police Appeal After Woman Badly Injured In Moped Snatch Robbery
1 September 2017, 08:16 | Updated: 1 September 2017, 08:21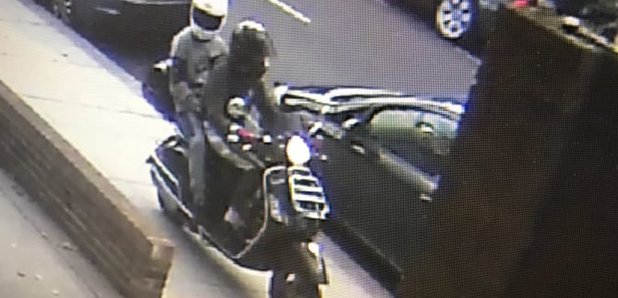 Detectives in Hounslow are asking the public to help them identify two suspects who dislocated a woman's arm during a violent robbery.
The incident happened around 3:20pm on Thursday, 31 August. The victim, a woman in her twenties, was sat in her car parked on Stamford Brook Avenue, west London, near the Shell petrol station, when two people on a moped drive up to her.
One of the suspects jumped off the moped and opened the passenger side door and grabbed a bag the woman was holding, which contained professional photography equipment.
She refused to let it go at which point the suspect punched her in the hand, causing her to release the bag. The suspect then jumped back on the moped.
At this point the woman got out of her car and bravely grabbed her bag. The moped pulled away and the victim was dragged along for about 20 metres before she eventually let go.
The two suspects road off towards Stamford Brook Road while the woman suffered a dislocated shoulder and a bruised hand. She is now recovering in hospital.
T/DC Rabeneck from Hounslow CID said: "A hard working woman was getting on with her day when these two individuals have targeted her and stole property she used to earn a living. The victim bravely fought for her suitcase but suffered serious injury as the two suspects who wore dark coloured clothing made off and dragged her along the road. I hope the release of the image of them will help identify them."
No arrests have been made and enquiries are ongoing.
If you recognise the scooter or the suspects, or have any other information about the incident, you can call Hounslow CID on 0208 247 6135. Alternatively you can call Crimestoppers on 0800 555 111.