Car Falls Into Sinkhole In South-East London
12 May 2016, 07:14 | Updated: 11 August 2016, 11:45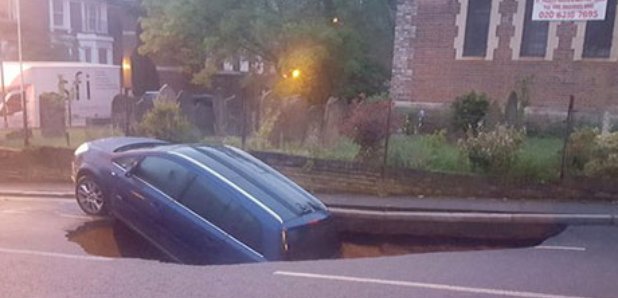 A car has fallen into a sinkhole that has opened up on a street in south-east London.
Picture: @MPSGreenwich
No-one was in the vehicle when part of Woodland Terrace in Woolwich collapsed overnight.
Police are currently at the scene and the council has been informed.
The Vauxhall Zafira is owned Ghazi Hassan, who was visiting his brother last night.
Mr Ghazi's brother, Abdul Ahmadzai, said: "He left it here last night after he came round with his wife. He's on his way here now.
"I woke up very surprised. The police were here about 4am so I came outside and saw the car - they said it was in a hole. I thought 'There's nothing I can do' and went back to sleep.
"I just woke up again now."

Asked if his brother was angry, Mr Ahmadzai said: "No, he knows there's nothing he can do. He just wanted to know if there was any damage, I'm sending him a photo now."