Thief Hands Stolen Sweets To Woman And Child After Terrifying Robbery
23 February 2018, 11:22 | Updated: 23 February 2018, 11:25
A terrifying robbery took an unexpected twist when a masked thug handed stolen sweets, drinks and cigarettes to a woman and child he told to wait outside.
Chilling CCTV has been released by Scotland Yard after the hooded man burst into the south east London shop brandishing a huge hunting knife.
He threatened the 45-year-old store owner and demanded cash from behind the counter during the raid on Brook Street on Thursday, 1 February.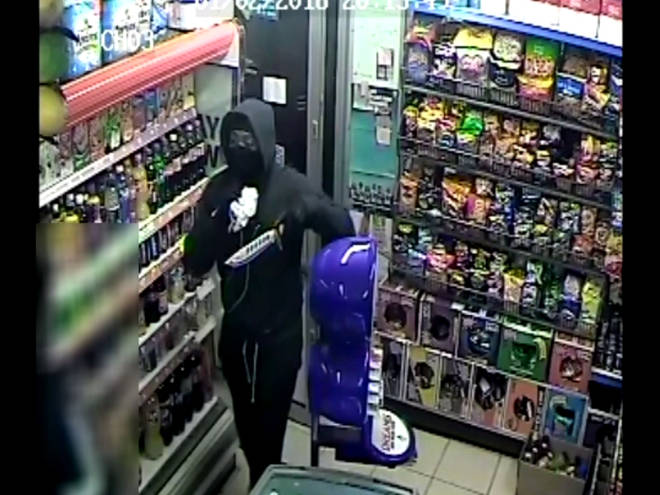 But, as the suspect interrogated the victim a woman and child entered the store - but both were quickly told to wait outside.
Then, in a bizarre twist, the robber went outside, spoke to the pair, asked what they wanted before re-entering the Bexley shop.
He stole a further eight packets of cigarettes, two drinks and some sweets which he handed to the woman and child before walking off into Northumberland Heath Park.
The suspect is described as a black man, approximately 5ft 6ins tall.
He was wearing dark coloured clothing, including a black Nike tracksuit, scarf, hat and gloves.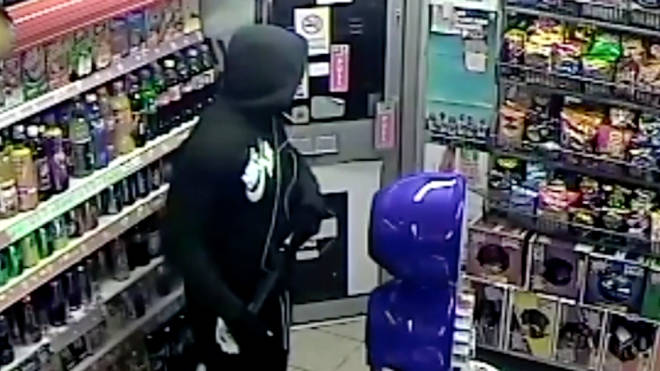 Det Con Maxine Hudd, said: "We believe that this could possibly be linked to a number of robberies that have taken place in the Erith area since 15 December 2017.
"Police are appealing for witnesses to this incident, specifically the woman and child, who were outside the shop, or anyone who saw the suspect enter or leave the park."
Anyone with information is asked to call Bexley CID on 020 8284 9146 or the police non-emergency line on 101.
Alternatively they can call Crimestoppers anonymously on 0800 555 111.