Rare Dolphin Spotted Swimming In The Thames
5 November 2017, 18:14
Londoners were stunned after spotting the mammal which had swam 40 miles up the river Thames.
A rare sighting of a dolphin has taken place in the river Thames at Richmond, 40 miles inland.
Postdoctoral fellow at the Natural History Museum, Travis Park, identified the common dolphin and posted a video to Twitter.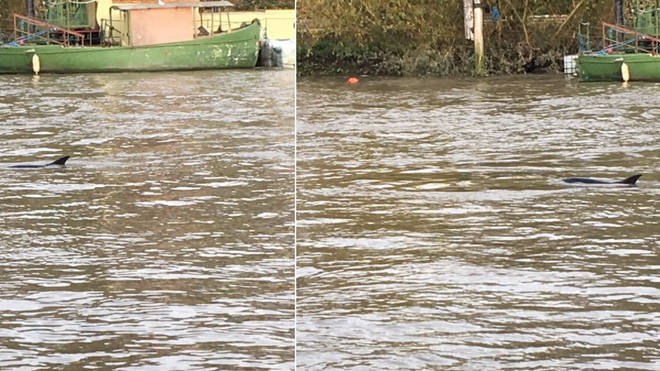 He described it as "trying to swim in the direction of the estuary but the tide was against it. It was struggling just to stay in the same spot. It nearly got hit by a big boat whilst I was watching it."
The sighting is thought to be the fourth of its kind in the Thames this year, after other dolphins or porpoises were identified by members of the public.
A 2015 survey by the Zoological Society of London found 49 whales, along with 450 porpoises and dolphins were seen in the Thames over a 10-year period.
The most famous visitor to the river was a juvenile northern bottlenose whale, dubbed the 'Thames Whale', which became stranded near the Albert Bridge in 2006.