Watch: Drone Trying To Fly Drugs Into Prison Caught By Undercover Police Officer
6 November 2017, 16:41 | Updated: 17 January 2018, 16:38
The supplier's total stock had a prison value of £38,000.
A man who brazenly attempted to fly a drone carrying drugs and mobile phones into HMP Pentonville Prison has been jailed at Blackfriars Crown Court today, Monday, 6 November.
Police officers were conducting a plain clothes operation called 'Operation Airborne' to combat the use of drones at HMP Pentonville.
Officers received a phone call from staff at HMP Pentonville to notify them of a drone seen on CCTV flying towards the prison. They attended the area and the drone was sighted in flight. An officer leapt out of an unmarked police car and grabbed hold of the drone.
118 grams of cannabis, two mobile phones and 71.7 grams of a psychoactive substance were recovered from a black plastic bag attached to the drone.
An area search was made but no one was found. An investigation was launched and Charlie Adifiyi was identified as a suspect through DNA. On 15 September a search was conducted at his home address and 476g of psychoactive substances were seized.
This had a prison value up to £38,000
Charlie Adifiyi was sentenced to three years' imprisonment after pleading guilty to smuggling cannabis, psychoactive substances and phones into prison.
He was also sentenced to one count of possession with intent to supply psychoactive substance.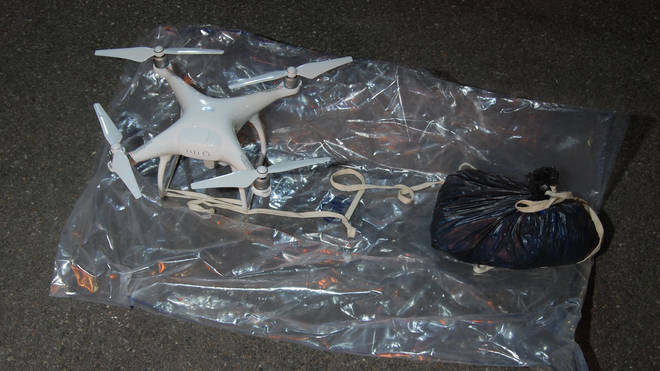 Inspector Steve Murfin, from Neighbourhoods Policing in Islington, said: "This drone was found to be carrying a substantial amount of cannabis and phones and due to the vigilance of officers it was prevented from entering the prison.
"We work closely with the prison service to gather intelligence in order to carry out proactive operations to arrest and prosecute those who commit this crime."
Prisons Minister Sam Gyimah, said: "I am determined to stem the flow of drugs into our prisons, and I want to pay tribute to the staff at HMP Pentonville and the police for preventing this haul from entering the prison system and undermining the stability and order at the jail.
"This conviction should send a strong message to others who may attempt to do the same; we will find you and put you behind bars."
Watch the video at the top of this page.