Dramatic Scenes As Firefighters Battle Huge Bakery Blaze
3 April 2016, 12:55 | Updated: 10 August 2016, 13:43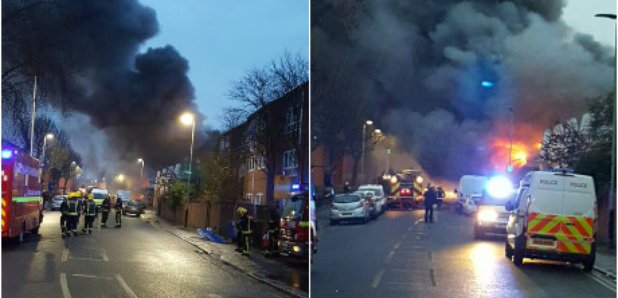 These were the dramatic scenes in Tottenham last as firefighters battles to put out a huge blaze at a bakery unit.
Ten fire engines and 72 firefighters battled to contain a fire on West Mews near West Road in Tottenham on Saturday evening.
The single story building partially collapsed during the blaze, that sent plumes of smoke towering into the sky.
Station Manager Ian Frame who was the scene said: "Crews were confronted with a large fire when they arrived and worked hard to confine it to the bakery and stop it from spreading to any neighbouring factory units. There was some fuel stored on site but crews isolated the supply and it was not involved in the fire."
The cause of the fire is under investigation. It was brought under control by 1am.