Afghanistan: Last troops touch down in UK as PM pays tribute to 'heroic' British soldiers
28 August 2021, 22:21 | Updated: 29 August 2021, 13:35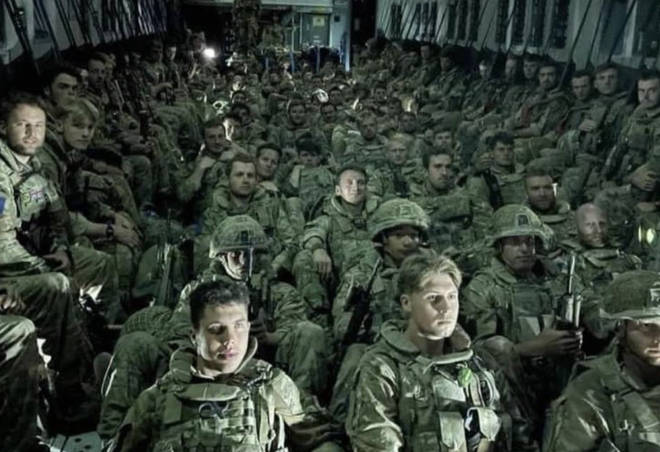 The UK's military evacuation from Afghanistan has concluded with the departure of the final troops and diplomatic personnel, as the Prime Minister called it a "moment to reflect on everything we have sacrificed and achieved".
The evacuation operation has lifted 15,000 people from Kabul in a fortnight, in what was the largest operation since the Second World War.
Among those fleeing were approximately 2,200 children, who have now been lifted to safety - the youngest of whom was just one day old.
A plane carrying the last British troops to leave Afghanistan landed at RAF Brize Norton in Oxfordshire this morning. Ambassador to Afghanistan Sir Laurie Bristow was on board.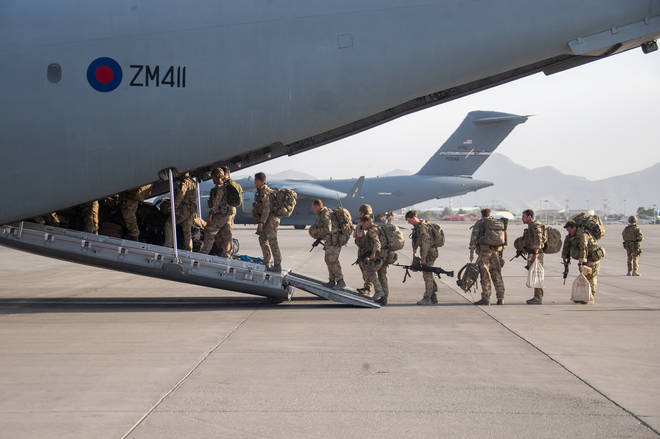 In the last two weeks 5,000 British nationals and their families, over 8,000 Afghan former UK staff and their families and many highly vulnerable Afghan people have been brought out of the country on over 100 RAF flights.
Read more: Final UK evacuation flight for Afghan nationals has left Kabul, MoD confirms
Read more: Afghanistan: Three British nationals including a child die in Kabul airport attack
The number of Afghans brought to the UK under the Afghan Relocations and Assistance Policy (ARAP) since it was established in April is now around 10,000 in total – double the number anticipated this year.
Reflecting on the operation, Boris Johnson said: "Twenty years ago, in the wake of the 9/11 attacks, the first British soldier set foot on Afghan soil aiming to create a brighter future for the country and all its people.  
"The departure of the last British soldiers from the country is a moment to reflect on everything we have sacrificed and everything we have achieved in the last two decades.  
"The nature of our engagement in Afghanistan may have changed, but our goals for the country have not.
"We will now use all the diplomatic and humanitarian tools at our disposal to preserve the gains of the last twenty years and give the Afghan people the future they deserve."
In a video clip uploaded to Twitter on Sunday morning, Mr Johnson said: "UK troops and officials have worked around the clock to a remorseless deadline in harrowing conditions.
"They have expended all the patience and care and thought they possess to help people in fear for their lives.
"They've seen at first-hand barbaric terrorist attacks on the queues of people they were trying to comfort, as well as on our American friends.
"They didn't flinch. They kept calm. They got on with the job.
"It's thanks to their colossal exertions that this country has now processed, checked, vetted and airlifted more than 15,000 people to safety in less than two weeks."
Read more: Biden warns another attack at Kabul airport is 'highly likely in next 24 to 36 hours'
Read more: Two 'high-profile' Isis-K members killed and one wounded in US drone strike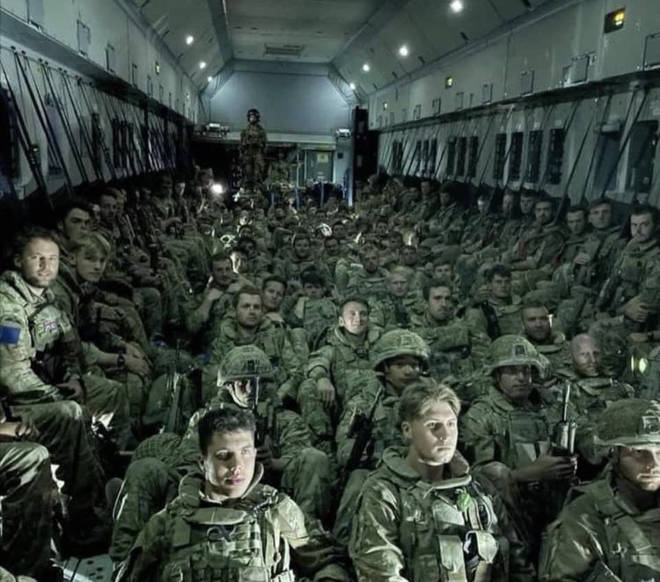 The Prime Minister said the UK's diplomatic efforts will now shift to supporting the people of Afghanistan from outside the country.
Downing Street said the British Embassy and Ambassador to Afghanistan Laurie Bristow will temporarily relocate to Qatar to lead our diplomatic, security and humanitarian engagement remotely.
The government intends to re-establish its diplomatic presence in Kabul as soon as the security and political situation in the country allows and are coordinating this effort with allies.
This will help us to deliver on our commitment to the people of Afghanistan, including through the delivery of humanitarian aid and by bringing more vulnerable Afghan people to the UK through ARAP and the Afghan Citizens' Resettlement Scheme (ACRS).
Read more: LBC hears heartbreaking stories from people stranded in Afghanistan
Read more: Tory MP's powerful take on Pen Farthing dog evacuation from Kabul
A Downing Street spokesman said: "As the Prime Minister agreed with G7 partners last week, the legitimacy of the Taliban regime in the eyes of the international community is contingent on them providing safe passage for those who want to leave Afghanistan, protecting against terrorism, safeguarding the human rights of all Afghans – particularly women and minorities – and allowing unhindered humanitarian access.  
"The UK will continue to exert all diplomatic and other efforts to achieve this and to establish an inclusive political process in Afghanistan to create a country that works for all its people."
In an open letter, the Prime Minister said he had been "lost in admiration for the heroic efforts of everyone" involved in Operation Pitting, the evacuation efforts to remove UK nationals and Afghan allies from Kabul airport.
Mr Johnson has told members of the Armed Forces, veterans, and loved ones of those who died serving in the military it was not down to "chance or good fortune" that the UK had been safe from attacks launched from Afghanistan for 20 years.
Writing as the operation came to an end, Mr Johnson said: "There has been nothing like it in speed and scale, certainly in my lifetime."
And he recognised the downfall of Afghanistan to the Taliban after 20 years would have been difficult to comprehend.
"Over the last two decades, many thousands of you dedicated years of your lives to service in Afghanistan, often in the most arduous conditions. In particular, I realise that this will be an especially difficult time for the friends and loved ones of the 457 service personnel who laid down their lives," Mr Johnson said.
But he repeated his message that their sacrifice was not in vain, and said: "Our purpose in Afghanistan was simple - to protect the United Kingdom from harm - and you succeeded in that central mission.
"In the last 20 years, not a single terrorist attack has been launched from Afghan soil against the UK or any other Western country. I know this was not down to chance or good fortune."
Read more: Defence Secretary: Claims I blocked Operation Ark flights 'total myth'
At 21.25hrs tonight the last RAF plane left Kabul Airport ending the evacuation of military and Afghan personnel. In 14 days over 15,000 people have been airlifted on over 165 flights. We should be proud of our armed forces, welcoming to those coming for a better life, and …

— Rt. Hon Ben Wallace MP (@BWallaceMP) August 28, 2021
Earlier today, the Ministry of Defence confirmed the final UK evacuation flight purely for Afghan nationals had left Kabul.
The head of the armed forces, Gen Sir Nick Carter, said hundreds of Afghans eligible to come to the UK remained in Afghanistan, and it was "heartbreaking" that not everybody had been rescued.
Footage circulated online today shows British paratroopers making their way back home to the UK on board one of the final flights. Ride of the Valkyries can be heard playing in the background on board the plane.
The Defence Secretary Ben Wallace said that the UK's obligation to those left behind "does not end with our leaving".
He said: "There will be many lessons to learn but over the last 20 years there are also endless examples of amazing achievements, bravery and friendships formed. We will not forget those who lost their lives."
It comes as US President Joe Biden warned that another attack at Kabul airport is "highly likely within the next 24 to 36 hours".
He said: "The situation on the ground continues to be extremely dangerous, and the threat of terrorist attacks on the airport remains high.
"Our commanders informed me that an attack is highly likely in the next 24-36 hours.
"I directed them to take every possible measure to prioritise force protection, and ensured that they have all the authorities, resources and plans to protect our men and women on the ground.
"They assured me that they did, and that they could take these measures while completing the mission and safely retrograding our personnel."
Mr Biden has vowed to "hunt down any person involved" in Thursday's "heinous attack" which killed 13 US troops.
The suicide bomb at the airport killed between 79 and 169 Afghans, 13 US military personnel and three British nationals, one of whom was a child.
Isis claimed responsibility for the attack on Thursday.
This story is being updated