Tories capital punishment: Labour takes key London councils but fails to breach 'Red Wall'
6 May 2022, 04:50 | Updated: 6 May 2022, 11:58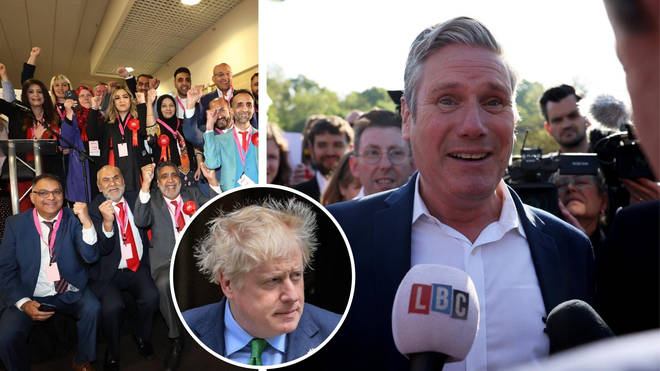 Labour have dealt a huge blow to Boris Johnson as they seized Westminster, Wandsworth and Barnet in the local elections.
The party turned Wandsworth red, with the south London borough having been under Conservative control since 1978.
Westminster, another flagship Tory council, was also captured by Labour in a historic victory for Sir Keir Starmer's party.
This is the first time Westminster will be under Labour control - with the council being held by the Tories since creation in 1964.
Results are still being counted from Thursday's local elections, which took place against a backdrop of fury at Partygate and the cost of living crisis.
Read more: Local Elections 2022: Which councils have changed hands?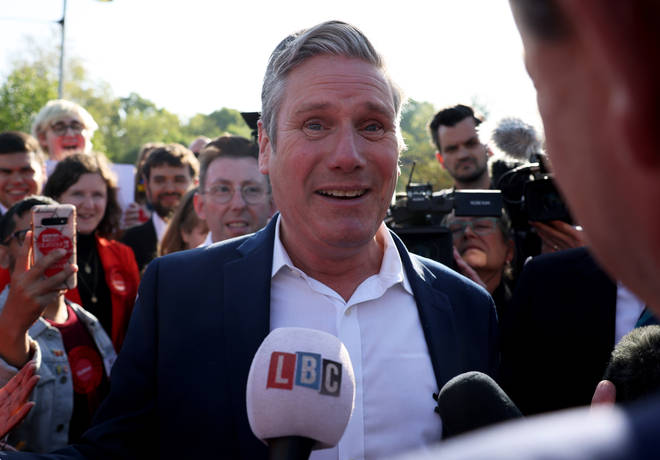 Labour was confident throughout the night, into Friday morning, it would seize control of the "jewel in the Tory crown" Wandsworth.
The Tories have also conceded defeat in Barnet in north London.
The Conservative leader in Barnet, Daniel Johnson, blamed the cost of living crisis and partygate for Conservative losses, describing them as a "perfect storm".
Read more: Tory MP caught out after blundering Asda own brand answer
The new Labour leader of Westminster, Adam Hug, has told LBC it was a hard-fought win and is a "testament to the fact that Conservatives here were increasingly out of touch with local people".
"It's confirmed that Westminster residents were fed up with the Government nationally who aren't doing enough on the cost of living crisis, and are fed up with the way in which the Prime Minister is leading the country."
Read more: Soft Tories want to give Boris a bloody nose after Partygate, Lammy says
Conservative party chairman, Oliver Dowden, said the results don't show that Labour has the "momentum" to form the next Government.
He told LBC's Nick Ferrari at Breakfast: "If you look at London we have had some difficult results, there's no point in denying that.
"But actually if you look across the country it's quite a mixed picture, we made gains in places like Nuneaton, in Hartlepool, in parts of outer, the fringes of London and I think if you take the picture of all of that it really doesn't show that Labour has the momentum to form the next Government."
Mayor of London, who was at the Wandsworth count, told LBC he was eight years old the last time the council was run by Labour.
Asked whether he or Sir Keir was responsible for Labour's gains in London, the mayor said: "We've got to give credit to our leader.
"What Keir has done in relation to a combination of things, antisemitism, but also making a credible opposition is important."
He said the cost of living crisis is "biting into Tory voters" as the public "feel the cuts being made by the Tory Government".
"Boris Johnson is a vote-winner for us, genuinely," he added.
On a visit to the count in Barnet, Labour leader Sir Keir Starmer said the result was "very special" and the party is "back on track".
Sir Keir said: "This is a big turning point for us. From the depths of 2019 in that general election, back on track, winning in the north. Cumberland! Southampton! We've changed Labour and now we're seeing the results of that."
He added: "What brilliant teams we've got, all the fantastic work we've put in.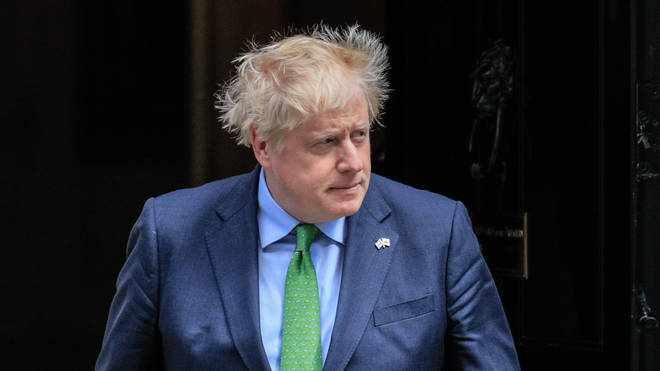 "When it comes to London, you can hardly believe those names come off our lips. Wandsworth! They've been saying for years 'You'll never take Wandsworth from us.' We've just done it! Westminster! It's an astonishing result."
A Labour source said: "Boris Johnson losing Wandsworth is monumental. This was the Tories' jewel in the crown."
"Voters in Wandsworth have put their trust in the change Keir Starmer's Labour represents."
In Wandsworth Labour added nine seats to bring their total to 35, while the Tories lost 11 to take theirs to 22. There was one independent councillor.
The Conservatives felt outside London things were less bleak. Boris Johnson, looking to hold onto his job by promoting his action with helping Ukraine fight off the Russian invasion, will hope that assessment proves right.
In other changes of control, the Liberal Democrats took Hull from Labour, the Tories lost Worcester to no overall control, and Labour gained Cumberland from no overall control by 4.30am on Friday.
The elections decide who oversees vital local services but are being seen as a test of Mr Johnson's tenure as PM after criticism at Downing Street parties during Covid rules, including a fine he was issued, and his handling of the cost of living crisis.
He was backed by Paul Bristow, the Tory MP for Peterborough.
"Boris Johnson is the biggest electoral asset that this party has had in a generation," he told LBC's Iain Dale.
"He is the only Prime Minister to deliver a substantial majority since the majorities of Margaret Thatcher.
"Boris Johnson is a proven electoral asset. He's never lost an election… we need to all get behind the Prime Minister, focus on delivery and do what needs to be done to make sure that we continue to deliver for the British people."
But losing Barnet on top of Wandsworth would represent a blow to Mr Johnson's credibility.
Labour's shadow foreign secretary and LBC presenter David Lammy said earlier: "My sense is, knocking on doors in London, the undecided category of voters are coming over to Labour.
"I think, in London, there were, if you like, soft one nation Conservatives who have been very uncomfortable really since Brexit, but certainly uncomfortable with both the rule breaking of Boris Johnson, policies like Rwanda that they're not comfortable with, and certainly in London a sense that cost of living is cutting through and want to give Boris and the Conservatives a bloody nose, and are voting Labour.
"It's what I saw in Wandsworth, it's what I saw in Barnet, I think in Westminster."