Putin hails invasion 'success' and says Ukraine uses 'human shields' in bizarre address
3 March 2022, 00:00 | Updated: 3 March 2022, 20:04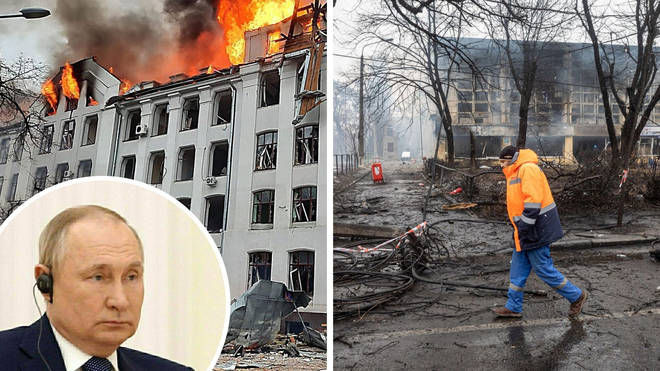 Vladimir Putin has accused Ukraine of using civilians as "human shields" in another speech rife with falsehoods and unverified claims.
The Russian president's forces have been accused of committing war crimes after reports emerged of civilian areas coming under bombardment.
But he refused to back down, again claiming his war against the democratically-elected government is a fight against "neo-Nazis".
He claimed Russian forces have being providing humanitarian corridors for civilians to flee, despite Ukrainian claims that say otherwise. He insisted "nationalists" are blocking them.
While western governments said it is likely Russia's invasion had not met targets the leadership expected, Putin said: "All objectives that were set are being resolved or achieved successfully."
His counterpart in Ukraine, Volodymyr Zelesnkyy, mocked Putin as he called for talks.
"Go away from our land. If you don't want to go away, sit down at the table of negotiations. I am available. Sit down but not 30 metres away like you did with Macron, Schultz etc – I'm you're neighbour," he said, a reference to the massive table Putin has been seen using for meetings.
"You don't need to keep me 30 metres away from you. I don't bite, I'm a normal man."
Ukrainian and Russian representatives will meet for a third round of peace talks after speaking on Thursday, Kyiv said. It was reported that Ukraine believes there is an understanding with Russia on civilian evacuations and a temporary ceasefire could be possible.
But French president Emmanuel Macron earlier said he feared the "worse is yet to come" in the war, according to an official at the French Elysee presidential palace after he spoke to Putin.
The Russian president said negotiations must centre on the "neutralisation and disarmament of Ukraine" and if such demands are not met the invasion will go on "until the end", Paris was told.
He also reportedly said he would attain that goal by military means, if not by political and diplomatic means.
The two leaders spoke at Mr Putin's request, according to the official, who could not be named in keeping with Elysee practice.
On Thursday, Putin doubled down on his invasion propaganda, claiming that Russians and Ukrainians are "one people" and many of them have been "brainwashed".
It is a week since Russia began its invasion of Ukraine.
Overnight, several huge blasts rocked Ukraine's capital Kyiv, hours after Russian forces claimed to have succeeded in taking over the first major city in their invasion of the country.
One rocked the city in the early hours of the morning as a series of blasts rocked the Ukrainian capital. It is unclear what the Russians were targeting with the strikes.
Terrified residents were urged to go to their nearest bomb shelters.
The Kyiv Independent reported that air raid alerts were issued in multiple regions included Kyiv Oblast, Lviv, Zhytomyr, Frankivsk, Chernihiv and Odesa.
CBS News reporters captured two of the blasts on film moments after signing off a report, leaving the reporter and his crew riled at the intensity of the explosions.
The United Nations Refugee Agency reported this morning that over one million refugees have fled Ukraine since the beginning of the war. Thousands of people, including as many as 2,000 civilians, have died in one week of Russia's invasion.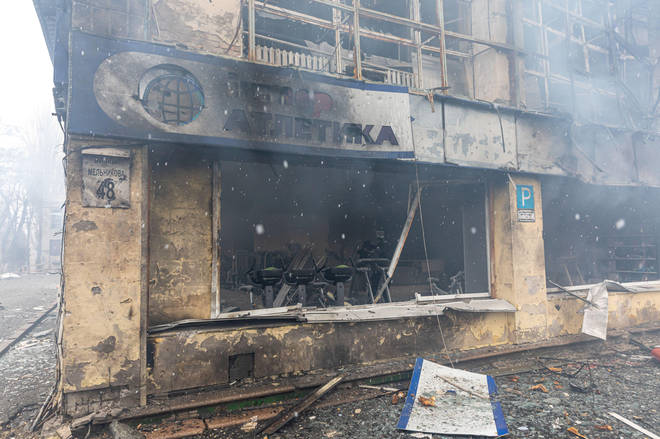 On Thursday, an Estonian-owned cargo ship sank following an explosion near the Black Sea port of Odessa, possibly after hitting a mine.
Russia continued to step up its siege of Ukrainian cities, including its apparent bid to try and encircle Kyiv, the capital. A massive convoy of troops is some 20 miles away from there.
The first major city in Ukraine has fallen to Russian troops, as Putin's army escalated attacks on crowded urban areas in "a blatant campaign of terror".
Russia's defence ministry said on Wednesday their armed forces had captured the southern Ukrainian city of Kherson.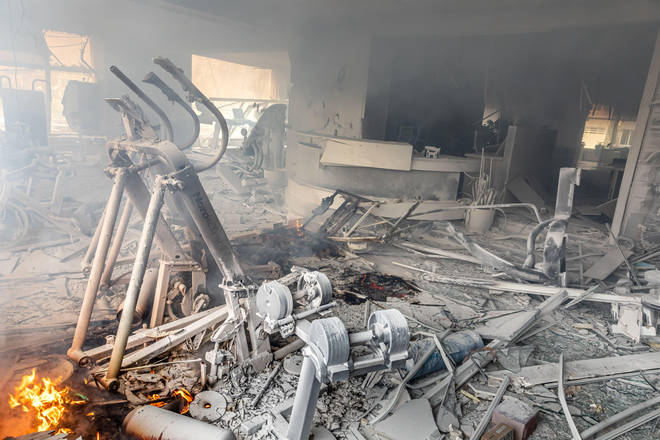 The port city is under Russian soldiers' "complete control", Defence Ministry spokesman Major General Igor Konashenkov said on Wednesday.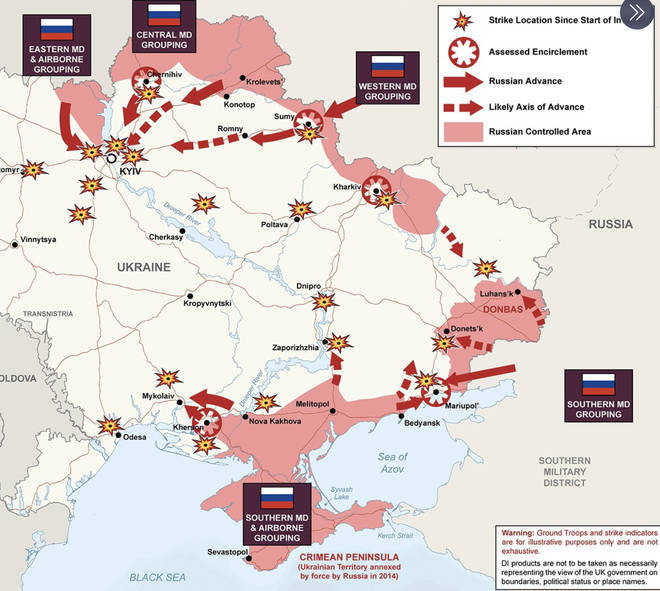 He claimed the city's civilian infrastructure, essential facilities and transport are operating as usual and that there are no shortages of food or essential goods.
The UK's Ministry of Defence said whilst the key city had fallen into Russian hands, "strong Ukrainian resistance" had limited overall gains in the country.
Read more: Roman Abramovich puts Chelsea up for sale with money set to go to victims of Ukraine war
Read more: Russian convoy blitzed near Kyiv by Ukrainian troops 'armed with Brit anti-tank weapons'
The intelligence update read: "While Russian forces have reportedly moved into the centre of Kherson in the south, overall gains across axes have been limited in the last 24 hours.
"This is probably due to a combination of ongoing logistical difficulties and strong Ukrainian resistance.
"Heavy Russian artillery and air strikes have continued to target built-up areas over the past 24 hours, primarily focused on the cities of Kharkiv, Kyiv, Mariupol and Chernihiv.
"The number of civilians displaced and forced to flee Putin's invasion has reportedly passed 660,000."
Russia's Defence Ministry's said that 498 Russian troops have been killed in Ukraine, with 1,597 wounded since they invaded the neighbouring country a week ago but the true number is thought to be much higher.
Read more: Did Belarus leader accidentally leak Putin's plan to invade Moldova on giant battle map?
Read more: Couple paint house blue and yellow to resemble Ukraine flag in show of support for nation
Ukrainian officials claim around 2,000 Ukrainians have died and at least 21 children since Russian troops began their invasion last week.
Read more: Watch: Defiant Ukrainians form human wall to block Russian tanks from advancing
Read more: Putin's invasion of Ukraine leaves 2,000 civilians dead as pleas for escape routes grow