'Big area of failure': Jeremy Hunt slams UK's approach to Ukrainian refugees
8 March 2022, 11:05 | Updated: 8 March 2022, 19:22
Former Health Secretary Jeremy Hunt has slammed the UK government's approach to Ukrainian refugees, telling LBC's Tonight with Andrew Marr it's a "big area of failure".
The Chairman of the Health Select Committee and former Foreign Secretary told Tonight with Andrew Marr: "I think the Government has broadly done the right thing so far in nearly every area, and I really do praise what they have done, but this is a big area of failure where we have misjudged the public mood."
It comes after LBC exclusively uncovered a UK visa application centre used to process Ukrainian refugees in Poland did not open its doors to a waiting crowd, despite the Government's promise to speed up its response to desperate people displaced by war.
Watch Tonight with Andrew Marr exclusively on Global Player every Monday to Thursday from 6pm to 7pm https://www.globalplayer.com/live/lbc/uk/
In scenes that shame the UK approach to the refugees, people waving British passports who were trying to secure visas for loved ones were left shivering in the minus-3 degree cold for three hours while the centre's doors stayed shut.
Speaking to Tonight with Andrew Marr, following LBC's report, Mr Hunt said he doesn't feel we are "rising to the seriousness of the situation".
"How are we going to feel in this country if, it's 1.5million so far that have fled Ukraine, maybe it gets to 2.5, 3.5 or even 5million, and we only have a few hundred here because we are saying for example you have to submit your biometric details in a city before you get to the UK.
"I don't feel we are rising to the seriousness of the situation. I think it's out of touch with the generous instincts of the British people."
You can also listen to the podcast Tonight with Andrew Marr only on Global Player.
Among those outside the facility in Rzezsow, Poland – close to the Ukrainian border - were children and an 84-year-old woman.
Read more: 'I am not hiding, I am not afraid': Zelenskyy sends Russia defiant message from Kyiv
Read more: Russian army losses due to 'poor and arrogant leadership', says Defence Secretary
A visibly cold Roman, who lives in Manchester but came to Poland to get his sister, who fled Ukraine, said he worried her young children: "I can't wait more [than one hour]… they will be ill for the next two weeks.
"They say it's fire reasons, so many people inside, they can't allow it [letting more people in].
"I will try to find accommodation for them, somewhere else."
On Monday night it emerged just 300 visas have been given out from 17,700 family scheme applications that have been started.
A total of 8,900 of those have been submitted. Priti Patel, the Home Secretary, has pledged a visa centre will be set up in France for Ukrainians who have made it that far, while James Cleverly, the Foreign Office minister, said he was sure the Home Office will expand its ability to process applications.
Read more: Russian general killed by Ukrainian forces in Kharkiv, says Ukraine defence ministry
One man waiting in the cold at the visa centre told LBC: "My mum, 84 years old, she travelled four days from Ukraine, train, bus, waiting at the customs."
A number of people produced British passports, saying they were trying to sort visas for loved ones. They said they had appointments which were due to happen hours earlier.
While the waiting crowd said they appreciated the UK's support for Ukraine, the man was shocked at how few visas have been sorted.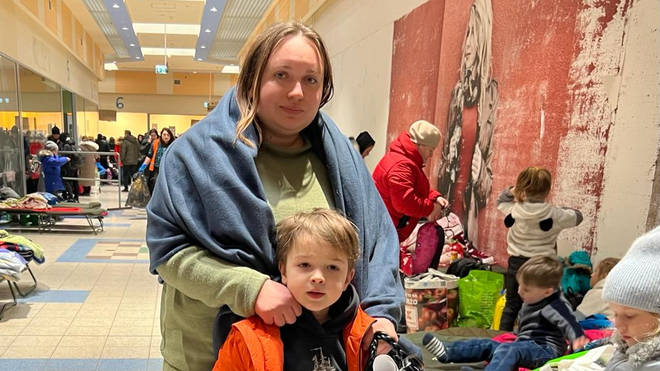 "300? For the whole UK? You kidding?" he said.
"It shocks us. Boris Johnson said the UK is going to accommodate at least 200,000, so 300 visas over two weeks is just nothing. It's a drop in the sea. Slow, extra slow."
"People in the queue here all say the same thing. If they happened to live in France, or Germany, they wouldn't need to be here at all," LBC's correspondent Matthew Thompson reports.
"They could just take their relatives with them.
"The U.K. has quite literally left them out in the cold."
He added that a Home Office official said that they are trying to persuade the building's owner to allow more people in, but that request is being refused. The Home Office is not the landlord of the building.
Liz Truss, the foreign secretary, said on Tuesday that a pop-up visa centre would open in Lille, some 60 miles from Calais, for Ukrainians that make it to France in the hope of crossing over to the UK.
The Polish Government is now handing out flyers warning about human trafficking.

We've seen the chaos at refugee centres, where dozens of drivers turn up offering lifts. Volunteers try to take their names, but admitted to us it's impossible.

Safe, legal routes are essential. pic.twitter.com/BA6XDoE4Vl

— Matthew Thompson (@mattuthompson) March 8, 2022
The UN Refugee Agency said 1.7 million Ukrainians have fled Russia's invasion, which has devastated many of their homeland's major cities that have come under siege and bombardments.
The figure is expected to rise as the destruction rages on and the casualty list grows.
Data by the UN on Tuesday said that Poland has taken in a million refugees, Hungary has taken 191,000, Slovakia 183,000 and Moldova 82,000.
Romania has seen 78,000 arrive while Russia is thought to have brought in 53,000 – amid criticism they were only allow refugees in their "humanitarian corridors" to leave for Russia, instead of other countries.
Dozens of drivers have been arriving at refugee centres to offer lifts but volunteers have found it difficult to take the names of everyone offering help.
It comes as the UK fell under pressure to ensure Ukrainians have a safe route out of their war-torn country and avoid the clutches of predatory gangs.
LBC has seen evidence of fears that they will become victims of serious crime - even after they travelled for miles to avoid bombs and bullets in Vladimir Putin's invasion of their home.
The Polish Government – having seen some million refugees cross over its border - has issued leaflets urging people to spot the signs of becoming a victim of trafficking.
They say: "You are a foreigner. You have come to Poland you feel you are in danger (you fear for your life), because someone: has taken away your passport or ID document; is assaulting, threatening, or blackmailing you; is forcing you into prostitution, stealing, begging working in inhumane conditions, and does not pay you the money you have earned.
"You may be a victim of human trafficking. Seek help!"
It then offers numbers for a number of organisations and explains rights available if the police are contacted, including legal residence in Poland and social benefits.
"Report to the police or Border Guard," it reads.
"Tell them about your situation. Cut off all contact with the perpetrators."
LBC's correspondent Matthew Thompson, reporting from the Poland-Ukraine border, said: "Yesterday, we met Antonina and her son.
"They were robbed of everything they own by a driver who claimed to be offering them assistance.
"Documents, jewellery, clothes, all gone. All they had was what they were wearing, and a handbag.
"A stark reminder of refugees' vulnerability."
Antonina told Matthew she had fled a Kyiv a week ago after bombings and street fighting, while grocery shops ran out of food and pharmacies lacked medicine.
"We were going to the border in Ukraine by taxi and the driver of the taxi just stole everything but this bag," she said through a translator.
"I took my child and little bag out of the car and I went to open the car to take my things but the driver just [left] and two people… one of these people had his coat and documents in the car and the driver has stolen everything from these people."
The man, who is a friend, had his documents stolen meaning he cannot cross the border and there is still no news from him.
She said she had queued for six kilometres and waited for 12 hours at the border and added: "I was crying because I didn't know how to explain everything.
"All my documents for my apartment, all my documents for the house, my laptop, I just don't know what to do next."