Met officer used Covid laws to handcuff and 'arrest' Sarah Everard before murdering her
29 September 2021, 07:02 | Updated: 29 September 2021, 21:29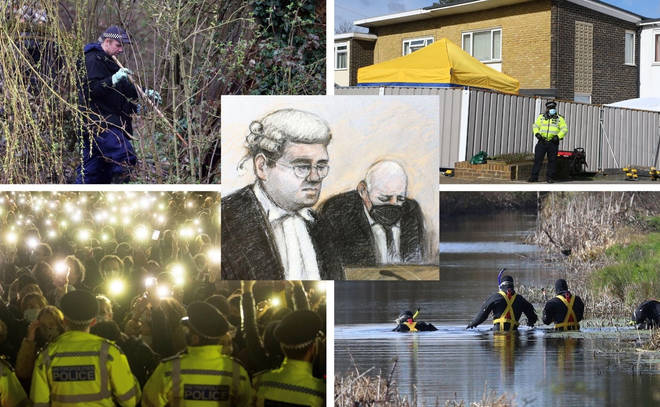 The police officer who murdered Sarah Everard used Covid laws to handcuff and falsely arrest her before raping her, strangling her and burning her body, a court heard today.
Wayne Couzens, 48, used his Metropolitan Police-issue warrant card and handcuffs when he snatched Ms Everard as she walked home in Clapham, south London, on the evening of March 3.
The court heard he used the Covid-19 lockdown and knowledge of patrols as an excuse to stop her as she walked home.
Couzens is being sentenced at the Old Bailey today. Prosecutor Tom Little told the court that Sarah Everard was "arrested" by Couzens, who handcuffed her after showing his warrant card.
She was abducted at the height of the Covid-19 lockdown and was more likely to submit to the accusation she broke Covid-19 rules, said prosecutors.
Watch: Moment Wayne Couzens falsely told police a gang made him kidnap Sarah Everard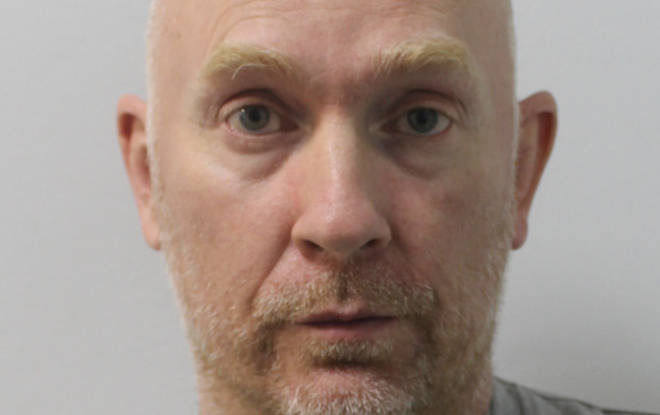 The court was shown CCTV footage which appears to show Couzens stopping Ms Everard as she walked along the street. He shows her his police badge, handcuffs her and then detains her in the back of a hire car.
A couple travelling home in a car witnessed the kidnapping, the court heard.
A woman on the pavement appeared to have her left arm behind her back and was in the process of "giving her other arm behind her back" as a man in dark clothing handcuffed her, according to the witness.
The woman was described in court as being compliant with her head down.
Mr Little said: "The immediate impression the passenger formed was that she was witnessing an undercover police officer arresting a woman, whom she assumed 'must have done something wrong'."
The prosecutor added: "They were in fact witnessing the kidnapping of Sarah Everard. She was detained by fraud.
"The defendant using his warrant card and handcuffs as well as his other police issue equipment to affect a false arrest."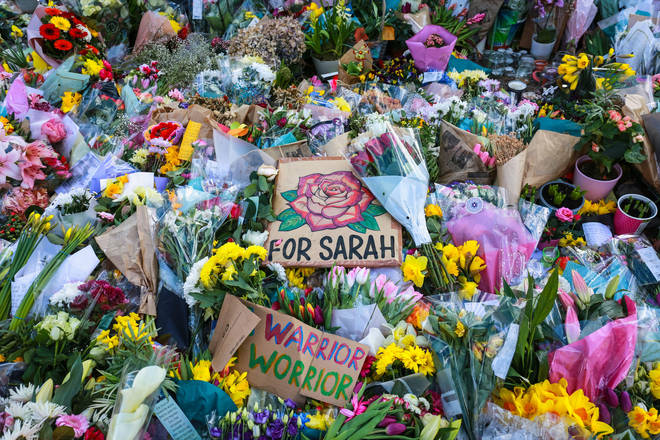 The court heard Ms Everard's kidnapping took less than five minutes.
She was handcuffed at about 9.34pm, detained in Couzens' hire car by 9.37pm and they were on their way to Kent a minute later, Mr Little said.
The court was shown CCTV of the defendant's hire vehicle in Dover shortly after 11.30pm as he transferred his victim to his own car.
Couzens then drove to a remote rural area north-west of Dover which he knew well where he parked up and raped Ms Everard.
The prosecution said it could not pinpoint the exact time she was killed.
However, Mr Little said she must have been dead by around 2.30am when Couzens pulled into a Dover service station and bought drinks.
He visited Hoads Wood near Ashford, where he burned and buried Ms Everard, twice during in the early morning, leaving just before sunrise.
At 8.15am on March 4, Couzens was captured on CCTV in a Costa Coffee shop in Dover buying a hot chocolate and bakewell tart.
Later that morning, he threw Ms Everard's mobile phone into a channel at Sandwich, only for it to be retrieved by a diver as part of a search of the waterway.
On March 5, he bought petrol which he used to burn her body in the woods, the court heard.
He burnt Ms Everard's body, clothing and possessions inside a refrigerator.
The court heard that on March 7, Couzens took his wife and two children on a family trip to the woods where only days before he had burned Ms Everard's body.
Mr Little said: "It follows that the defendant took his family on a family trip to the very woods where days earlier he had left Sarah Everard's body, then returned to burn it and then returned again to move it and hide it."
Couzens allowed his children to play in "relatively close proximity to where Ms Everard's body had been dumped in the pond", he added.
While on his five days' leave, Couzens had emailed his supervisor to say he felt "unable to carry firearms".
Couzens had previously contacted an escort and had a profile on Match.com, the court heard, while prosecutors said he was around £29,000 in debt and was the subject of a debt management plan.
His lawyer Jim Sturman QC is expected to offer mitigation later on behalf of the defendant.
Scotland Yard said in a statement ahead of his sentencing: "We're sickened, angered & devastated by his crimes. They betray everything we stand for.
"Our thoughts are with Sarah's family and her many friends. It is not possible for us to imagine what they are going through."
A week after she disappeared, Ms Everard's body was found in a woodland stream in Ashford, Kent, just metres from land owned by Couzens.
The firearms-trained parliamentary and diplomatic protection officer wiped his phone just minutes before he was arrested at his home in Deal, Kent, on March 9.
The killing prompted national outrage and sparked protests at the rate of violence against women.
In July, Couzens pleaded guilty to Ms Everard's murder, kidnap and rape by video link from jail.
Before handing down his sentence on Thursday, Lord Justice Fulford will consider a whole life order, which could mean Couzens may never be released from prison.
Speaking outside the Old Bailey in July, Met Police Commissioner Dame Cressida Dick said she was "very sorry" for the loss, pain and suffering of the Everard family.
She said: "All of us in the Met are sickened, angered and devastated by this man's truly dreadful crimes. Everyone in policing feels betrayed."
The police watchdog has received a string of referrals relating to the Couzens case, with 12 police officers being investigated.
The Independent Office for Police Conduct (IOPC) said it was looking at whether the Met failed to investigate two allegations of indecent exposure relating to Couzens in February, just days before the killing.
Kent Police are also being investigated over their response to a third allegation of indecent exposure dating back to 2015.
The case has prompted renewed concern about police recruitment checks and why Couzens continued to hold a warrant card, despite the allegations of sexual offences.
Scotland Yard has said there was no information available at the time that would have altered the vetting decision in his case.