Finland apply to join NATO after Russia boasts nukes 'can hit country in 10 seconds'
15 May 2022, 11:38 | Updated: 15 May 2022, 14:14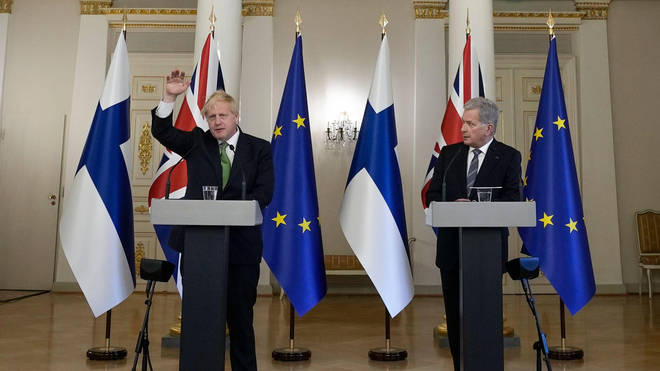 Finland's president and government have announced the Nordic country intends to apply for membership of Nato, paving the way for the 30-member Western military alliance to expand amid Russia's war in Ukraine.
The president and prime minister made the announcement at a joint news conference in the Presidential Palace in Helsinki on Sunday.
Top Nato diplomats are meeting on Sunday in Berlin to discuss providing further support to Ukraine and moves by Finland, Sweden and others to join the alliance in the face of threats from Russia.
Finland, which shares a long border with Russia, has previously been a neutral country.
Mr Niinisto said: "This is a historic day. A new era begins."
The Finnish Parliament is expected to endorse the decision in coming days, but it is considered a formality.
A formal membership application will then be submitted to Nato headquarters in Brussels, most likely at some point next week.
It comes after Aleksey Zhuravlyov, deputy chairman of the Russian parliament's defence committee, said it was "absolutely legitimate" to "question the existence" of Finland.
Read more: Russia accuses West of 'total hybrid war' despite threatening to nuke UK in seconds
The 59-year-old Putin ally told reporters on Saturday that Finland "should be grateful to Russia for the fact that Finland exists" after threatening to turn the US and UK into "nuclear ashes".
Speaking on Russian state TV Zhuravlyov said: "If Finland wants to join this bloc, then our goal is absolutely legitimate - to question the existence of this state. This is logical.
"If the United States threatens our state, it's good: here is the Sarmat [Satan-2 missile] for you, and there will be nuclear ashes from you if you think that Russia should not exist. And Finland says that it is at one with the USA. Well, get in line.
"The Finns in general should be grateful to Russia for their statehood, for the fact that Finland exists as a country."
When asked whether nuclear weapons would need to be moved to the border with Finland if they are successful in joining Nato, he replied: "What for? We don't need to.
Read more: Dramatic Call of Duty-style footage from Ukraine tank shows destruction of Russian forces
"We can hit with a Sarmat from Siberia, and even reach the UK."And if we strike from Kaliningrad... the hypersonic's reaching time is 200 seconds - so go ahead, guys.
"On the Finnish border we will have not strategic weapons, but Kinzhal-class, one that will reach Finland in 20 seconds, or even 10 seconds."