Lockdown easing: All you need to know about England's Covid rules from today
17 May 2021, 14:28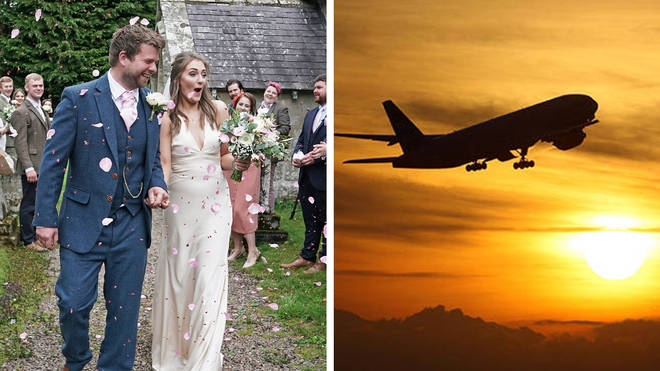 England is taking its next step out of lockdown. What are the rule changes from Monday? What is opening next? Which restrictions will stay in place? Here is all you need to know.
The roadmap out of lockdown in England has so far gone as planned and Monday marks the most significant relaxation so far.
So as another key date approaches for the return to normal life, what will happen on 17 May as part of Boris Johnson's plan? What's the next step of coming out of lockdown?
Following the reopening of gyms, non-essential shops and outdoor eating and drinking facilities, the public are looking forward to getting some more information on going abroad, indoor dining and entertainment and larger gatherings.
Related article: What is the traffic light system for travelling abroad in 2021?
Related article: Over 50s to get fast-track second jab as England's unlocking continues
So what lockdown restrictions are lifting in England on Monday? And what lockdown rules will still be in place after 17 May? Here's the latest information: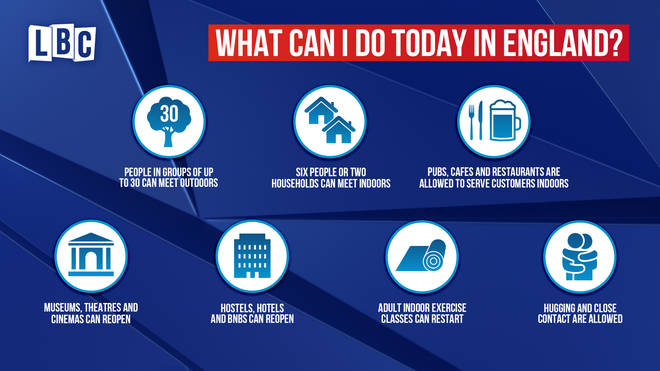 What lockdown restrictions are lifting in England on Monday 17th May?
Last week the government announced that their four tests for easing lockdown had been met, giving the go ahead for multiple sectors of the economy to reopen on Monday and easing other restrictions. This includes:
Socialising rules relaxed - Groups of up to 30 people can gather outdoors, while people can meet indoors with up to six people or as two households.
Pubs, bars and restaurants reopen indoors - The hospitality industry can reopen indoors, with groups of up to six people or two households able to sit indoors.
Indoor entertainment reopens - Cinemas, theatres, museums, bowling alleys, conference halls and children's play areas can all reopen. Sports stadia can also reopen with capacity limits.
Indoor exercise returns - Organised indoor sport and exercise classes can restart. Saunas and steam rooms can also reopen.
Weddings and funerals - Weddings, receptions and other life events can have up to 30 people, while the numbers at a funeral will depend on the size of the venue.
Social distancing eased - Hugs are back! People can choose whether to socially distance with friends and family outside of their household. But the 1-metre-plus rule will stay in place in most settings.
Care homes allow more visitors - Residents can have up to five named visitors and greater freedoms to make low-risk visits outside the home.
International travel eased marginally - The 'Stay in the UK' restriction will be removed, with a new traffic light system coming into force. Travel from 12 green list destinations will be allowed quarantine free, but travel to other destinations is not recommended.
Domestic overnight stays - All remaining accommodation, including hotels, hostels and B&Bs, can reopen to the public. Overnight stays in groups of up to six people or two households are permitted.
School face mask rules removed - Face coverings will no longer be recommended in classrooms or communal areas in secondary schools or communal areas. Twice-weekly testing will stay.
Universities return - All remaining university students can return to in-person teaching and learning.
Which measures will remain in place?
Nightclubs to remain closed until at least 21 June
Audience restrictions remain for large live events (i.e football matches, festivals)
Some restrictions to remain on life events (i.e weddings, funerals)
Rule of six or two households for indoor socialising
Social distancing rules in business and medical settings
Will the Indian variant affect Monday's lockdown easing?
Boris Johnson has dismissed calls to delay Monday's lockdown easing, despite concerns about the spread of the Covid variant first found in India.
However, he has asked the public to "exercise caution and common sense", adding "it's very clear now we're going to have to live with this new variant of the virus for some time so let's work together".
Monday's relaxation of rules will affect the whole of England, but ministers have warned they are not ruling anything out, including future local restrictions.
For now, the prime minister has urged people to "think twice" ahead of travelling to areas with higher incidences of the Indian variant and staying with family and friends within those areas. These particularly include Bolton and Blackburn.
"We want people in those areas to recognise that there is extra risk, an extra threat of disruption to progress caused by this new variant and just to exercise their discretion and judgment in a way I'm sure that they have been throughout this pandemic," he said at a Downing Street press conference on Friday.