Omicron rules explained: Where to wear face masks and when to self-isolate
29 November 2021, 18:49 | Updated: 22 December 2021, 17:29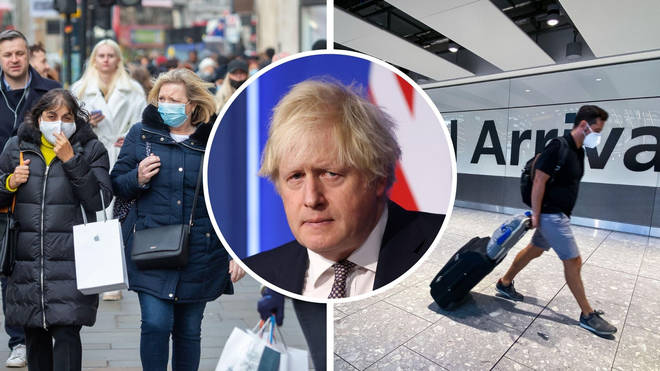 Precautionary measures have been brought in amid growing worries over the new Omicron Covid variant - find out the latest rules in place here.
The Government previously announced changes to the rules when Omicron became a Covid "variant of concern".
It comes as five cases of the new variant have were confirmed in England and six were found in Scotland by Monday evening.
Measures making a return include mask-wearing and stricter travel restrictions.
Where do masks have to be worn?
Face coverings are the most visual element of England's Omicron measures.
The law requires people to wear them in most indoor public places, as well as on public transport.
They are not needed in places where food and drink is consumed, including pubs and restaurants, during exercise, such as at the gym, or when dancing, like in a nightclub.
Advice says you should still wear a mask when in an indoor area that's crowded, with people you wouldn't normally meet.
Some people with a health condition or disability are exempt, as are children aged under 11.
Read more: Covid-19 booster jabs: Who is eligible and how can you book?
Who needs to self-isolate?
Those with Covid symptoms must self-isolate immediately, with unvaccinated contacts of suspected cases also expected to isolate for 10 days.
People who are fully vaccinated and have been in contact with someone with Covid - whether Omicron or another variant - are being told to take an NHS rapid lateral flow test every day for seven days to help slow the spread of the virus.
Lateral flow tests may now be taken on day six and seven and if both come back negative you can leave isolation.
As little is known about the latest variant, the move will give time for more people to get vaccinated before case numbers rise further, offering more protection.
What are the travel rules?
Fully-vaccinated people travelling to England must take a Covid test in the two days before they set off, arrange a PCR test for after they arrive, and complete a passenger locator form.
Arrivals must quarantine until they get a negative test result.
Those who aren't fully vaccinated must also take a test in the two days before travel, but also arrange PCR tests on day two and eight of their arrival in England, and quarantine for 10 days.
Read more: Omicron likely spreading in the UK as all adults to be offered booster jab
The Government has taken all countries off the red list as it is "less effective in slowing the incursion of Omicron from abroad".
Health Secretary Sajid Javid added: "So I can announce today that whilst we'll maintain our temporary testing measures for international travel, we will be removing all 11 countries from the travel red list effective from 4am [Wednesday 15 December]."
The countries on the list were southern African nations, where Omicron was first detected.
People already in quarantine have been told to complete their isolation period, despite the change in rules.