Police use crane to drag eco zealots off fuel tanker after protest in West London
14 April 2022, 08:55 | Updated: 14 April 2022, 13:49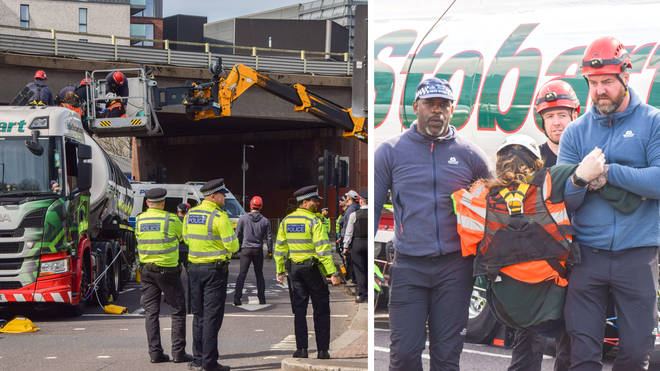 Police have used a crane to remove eco protesters after they climbed onto a fuel tanker lorry in Chiswick, disrupting rush hour traffic just before one of the busiest weekends on the roads in eight years.
Four people have been arrested after police used a crane to remove a group of protesters who glued themselves to a fuel tanker.
Protesters from the group Just Stop Oil had climbed on top of the vehicle at Chiswick roundabout in West London causing huge amounts of disruption in the area.
The group had disabled the controls of an Eddie Stobart fuel tanker and glued themselves to the top of the vehicle.
A number of people holding placards and banners reading 'Just Stop Oil' also stood in the middle of the carriageway causing further disruption.
A video shared on social media showed police using an extended crane to board the vehicle and confront the protesters.
It also shows the protesters being dragged and carried away from the scene by police.
The Metropolitan Police said road closures were in place and advised people to avoid the area.
"Road closures are currently in place at the #Chiswick Roundabout," said Hounslow Police.
"Diversions are in place.
"Please avoid the area if possible."
Police have implemented a closure of the northern side of the roundabout, with traffic diverted onto the A4 westbound.
Traffic monitoring service Jambuster said traffic was slow on all approaches to the roundabout.
It added that restrictions were in place.
The A4 eastbound is blocked, with traffic being diverted.
There are also delays on the M4 from Junction 2.
On the south circular delays stretch over Kew Bridge, and on the north circular they start at Gunnersbury Lane.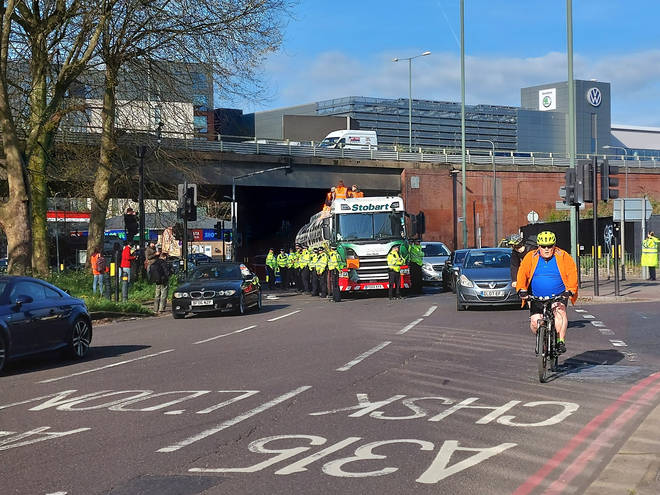 Four protesters were seen sitting on top of the fuel transportation vehicle, having climbed up just before 9am.
They lowered down a banner reading "just stop oil".
Police officers later formed a ring around the vehicle, while cars and buses squeezed around it.
BREAKING NEWS: Chiswick Roundabout in West London blocked as a fuel tanker has been stopped by Just Stop Oil supporters.

Until the Government stop funding new oil in a #ClimateCrisis, we must continue to pressure them into action. pic.twitter.com/KkWyAtkGFQ

— Extinction Rebellion UK 🌍 (@XRebellionUK) April 14, 2022
It comes just before what is expected to be one of the busiest days on the road in at least eight years.
People were told to drive at night if possible as more than 21.5 million trips are projected to be made between Good Friday and Easter Monday.
Read more: Drive at night to avoid bank holiday travel chaos, Easter holidaymakers warned
The busiest day of the weekend is expected to be Friday 15 April.
People are being advised by the RAC to drive between 7.30pm and 9am.