Police take seven hours to un-stick oil protest eco mob from smashed M25 petrol pumps
28 April 2022, 07:21 | Updated: 28 April 2022, 15:07
Police took seven hours to detach a group of eco zealots who glued themselves to petrol pumps at two service stations on the M25 today.
Just Stop Oil said 35 of its supporters blocked petrol stations at Cobham Services and Clacket Lane Services in Surrey at 7am this morning. It wasn't until after 2pm this afternoon when police confirmed the group had been removed.
Surrey Police posted footage of one of the group being removed and said: "Protester removal can be a complex process which can take some time."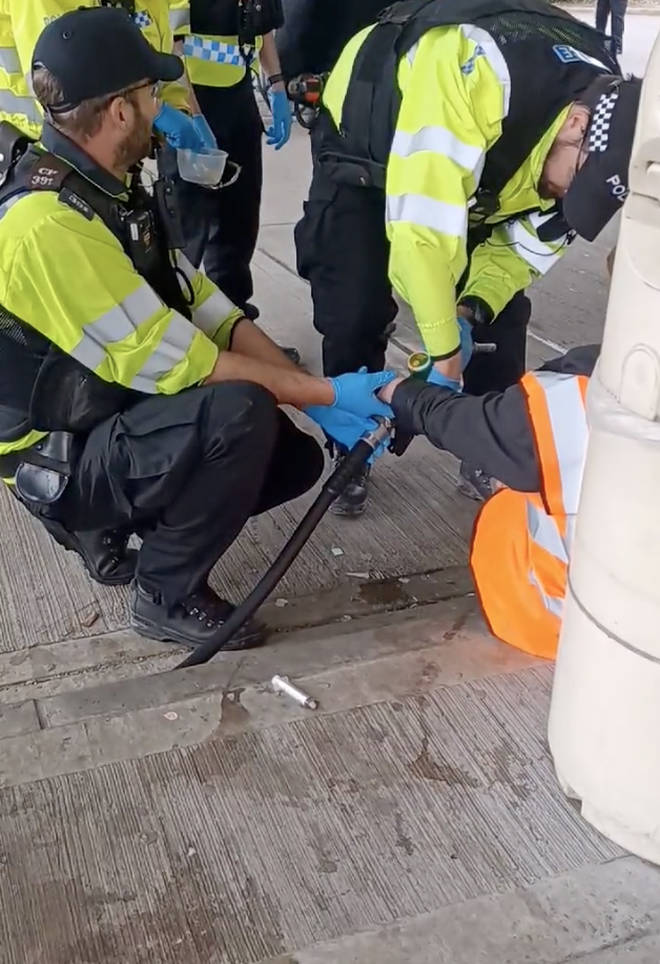 One of the group glued their hand to a pump. Another Police removed the protesters methodically and at leat 15 arrests were made. Police said further updates would be made later once all of the protesters had been removed.
Louis McKechnie, who spent a month and a half in prison for blocking the motorway last year, ignored the threat of more jail time and vandalised petrol pumps using a mallet and spray paint.
Another of the group needed a seat to help with arm cramp after glueing himself to the petrol pump.
Just Stop Oil brought chaos for drivers who needed to fill up on the M25, spray painting two petrol stations and smashing up some of the pumps during the morning rush hour.
Kit is being used to remove a protester who has glued themselves to the base of this petrol pump. We will provide full arrest numbers shortly. Thank you for your patience - protester removal can be a complex process which can take some time. pic.twitter.com/5m9Jpt1Xyi

— Surrey Police (@SurreyPolice) April 28, 2022
At Clacket Lane services in Kent, one protester glued himself to a pump at a BP garage.
Police watched on as Nathan, 22, got arm cramp and one of his colleagues wheeled a chair over for him to sit down.
LBC was at the scene to see the violent protesters in branded orange high-vis jackets while bemused motorists filled up their cars.
The group first smashed the payment tickers before spray painting them along with the labels, causing criminal damage.
Nathan told LBC: "This damage is nothing compared to the catastrophe hitting millions of people across the globe right now."
The eco mob also sabotaged Britain's biggest petrol station - Cobham on the M25 - with 35 people involved in the action.
Read more: Eco-mob cause chaos in London with protestors glued to limo and DJ's blocking roads
Read more: Judge praises 'inspiring' Insulate Britain eco-mob as he fines them for M25 protests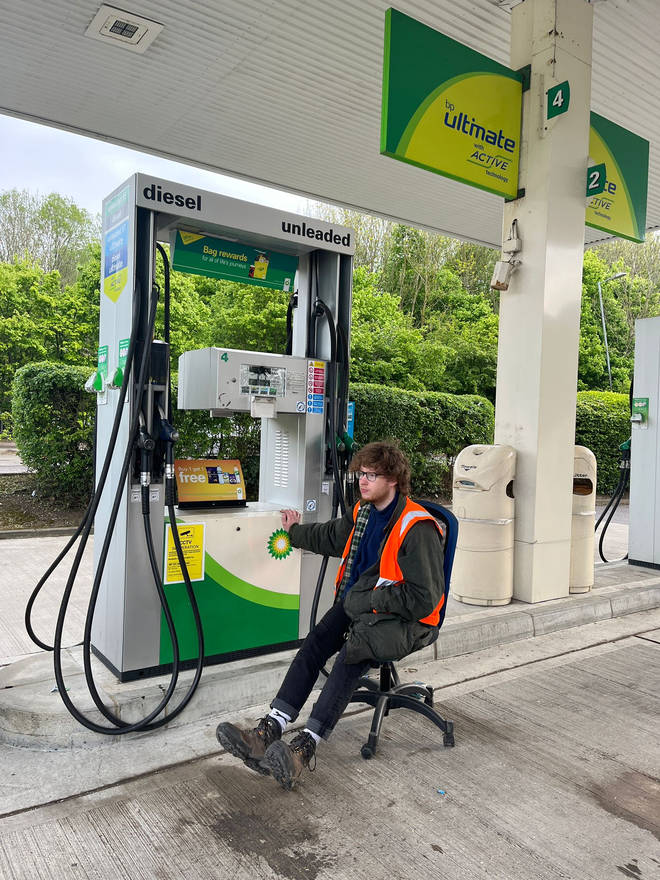 One protester at Cobham glued himself to the top of a lorry.
Meanwhile, another protester at Clacket Lane felt the need to lie down because she was tired from waiting around.
She had glued her hand to a petrol pump three hours earlier.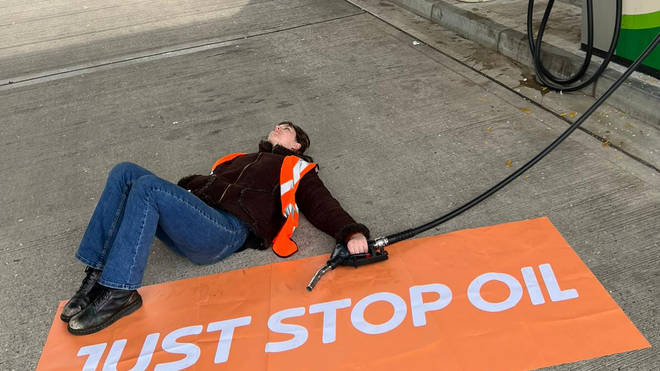 The extreme behaviour has caused fury online, with one person tweeting: "This is extremely dangerous.
"Vandalising petrol pumps is way over the line.
"These people need locking up, and not for a few months either.
"These need taking off the streets for years before they kill someone!"
Another person tweeted: "How is this even allowed to go on?
"If I were to as much as pick my phone up in a petrol station I'd expect armed police to surround me!"
A third tweet read: "Eco mobs doing criminal damage on petrol pumps.
"Because THAT'S really going to make a difference."
When asked by LBC about the backlash, Nathan said: "I understand the anger, absolutely, but what I would say is this cost living crisis that we're in - that I'm in... is a product of a reliance on of fossil fuels."
He added: "The top climate scientist in Ukraine has called this a fossil fuel war because of the reliance we have on fossil fuels and the fact we're forced into this addiction from birth, essentially."
Protesters were also seen blocking the entrance to the petrol station, holding signs saying Just For Oil.
As police arrived, they could been seen glueing themselves down, preventing anyone else from entering the forecourt.
Surrey Police said in a statement: "We are currently dealing with two groups of protesters who turned up earlier this morning at Clacket Lane and Cobham Services.
"Officers were called around 7.02am following reports that a group of protesters had turned up at Clacket Lane and were gluing themselves to pumps and signs on the petrol station forecourts.
"They were also blocking access to the pumps.
"A further call was received around 7.06am that protesters were on site at Cobham Services petrol station and were damaging the pumps.
"One of the protesters had also glued himself to the top of lorry.
"The pumps have all been switched off and motorists are being diverted away from both service stations.
"We appreciate the considerable disruption this is causing and we are working as quickly as we can to remove the protesters from the site and allow both petrol stations to re-open.
"Please bear with us while we continue to deal with these ongoing incidents."
Just Stop Oil are the latest group to take up disruptive action over climate worries, having emerged to prominence after a crackdown on Insulate Britain.
Between September and November last year, M25 junctions were repeatedly blocked by Insulate Britain.
Just Stop Oil began its protests on April 1, having blockaded fuel terminals in south-east England and the Midlands, and targeted several high-profile football matches.