Decision on healthy 16 and 17-year-olds being allowed first Covid vaccines 'imminent'
4 August 2021, 12:35 | Updated: 4 August 2021, 12:39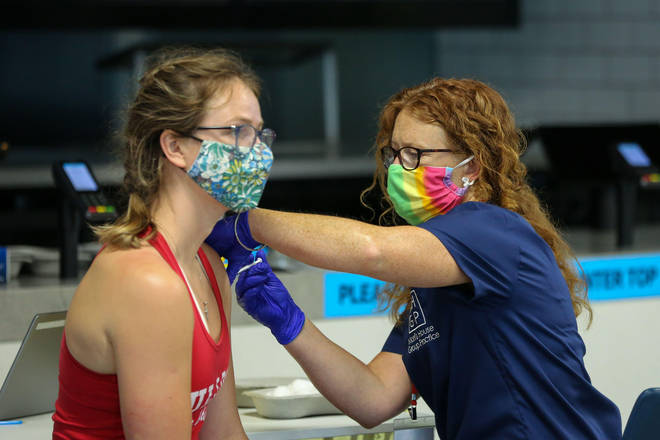 More teenagers look set to receive a coronavirus vaccine with ministers expected to approve advice for 16 and 17 year olds on Wednesday.
Healthy people of those ages will be offered doses, with their peers who have underlying health conditions putting them at higher risk of serious Covid infection having already had the chance to get jabbed.
It means more people will get a chance to become protected from coronavirus with England having dispensed with most of its legal restrictions and Scotland set to move "beyond level zero" from Monday.
Read more: React study data 'supports' extending the vaccination programme to 16 year olds
Under current advice, children aged 12 to 15 who have conditions that make them vulnerable to coronavirus can get the vaccine, as can people aged 12 to 17 who live with an immunosuppressed person.
The Daily Telegraph, The Daily Mail and The Times all report that this will be extended to 16 and 17-year-olds now, with bookings potentially available within two weeks.
Read more: Virologist says 'right thing' would be to offer Covid jab to age 12 and up
LBC was told by Universities Minister Michelle Donelan on Wednesday that advice from the JCVI (Joint Committee on Vaccination and Immunisation) on over-16s being vaccinated was "imminent".
Read more: UK hits 85 million jab milestone amid drive to vaccinate young
Read more: One in three young adults in England have not had Covid jab
"We have, throughout this pandemic, always adopted what the JCVI have said," she said.
"They are independent of government, but they are some of the leading scientists in this area, so it is important that we listen to them."
She went on to say: "I look forward to hearing from the JCVI imminently on what their latest decision is."
It comes after Professor Steven Riley, co-author of the React study, told LBC that extending vaccination even further could prove effective.
"Our data would support [more young people getting vaccinated] in that we would expect there to be a really good knock-on effect from extending the vaccination to that group.
He added: "I think it's approved as safe from 13 upwards and eventually, if that could be prioritised, then that would also reduce transmission.
"We saw a lot of transmission in secondary aged children."
There are about 1.4 million of those youngsters in the UK, according to the Office for National Statistics.
Scottish First Minister Nicola Sturgeon hinted a decision could be made soon on Tuesday, telling the Scottish Parliament: "We are waiting on JCVI advice. When I say 'we', I am obviously referring to the Scottish Government, but the UK, Welsh and Northern Irish governments are in the same position."
She said: "First, as a priority, I am particularly hopeful that we will see updated recommendations for 16 and 17-year-olds.
"I am hoping for - possibly veering towards expecting - updated advice from the JCVI in the next day or so."
Labour's shadow health secretary Jonathan Ashworth said: "With the JCVI apparently about to give the green light to vaccinating 16-year-olds, ministers need to ensure plans are in place to roll out this vital next stage of vaccination while ensuring parents have all the facts and information they need."