Brazil's Covid variant a cause for 'concern', Boris Johnson warns
13 January 2021, 16:12 | Updated: 13 January 2021, 19:44
The emergence of a new Covid variant in Brazil is a "concern" but the government is "taking steps" to prevent it entering the UK, Boris Johnson has said.
Prime Minister Johnson issued the warning about the new strain of coronavirus while speaking to MPs on the Commons Liaison Committee on Wednesday afternoon.
The UK leader expressed his worry about the variant but did not confirm whether a travel ban will be introduced for those arriving from Brazil.
"We are concerned about the new Brazilian variant," he told MPs.
"We already have tough measures to protect this country from new infections coming in from abroad and we are taking steps to do that in respect of the Brazilian variant."
Read more: UK records 1,564 new Covid-19 deaths in highest-ever daily figure
Watch: Van-Tam says not to worry about vaccines working against new strains
Mr Johnson added that questions remain about the new strain of Covid-19, including whether it would be resistant to the vaccines.
"There are lots of questions we still have about that variant, we don't know, for instance, any more than we know whether the South African variant is vaccine-resistant."
The prime minister also said that understanding whether the vaccines work against the Brazilian and South African variants will play a part in deciding whether or not to re-open schools after the February half term.
However, he said: "I should stress, by the way, we have no evidence at present to think these strains are vaccine-resistant."
Read more: 'We need to look really hard at border control', scientist says on LBC
Watch: Travel curbs needed to prevent South Africa variant entering UK - Shapps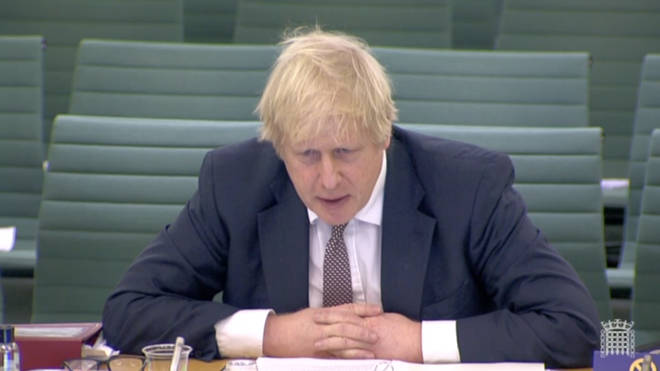 Mr Johnson also insisted that extra measures are being put in place to prevent the Brazilian coronavirus variant being imported to the UK.
Home Affairs Committee chairwoman Yvette Cooper subjected the PM to intense questioning over border measures saying the nation could have "stronger quarantine and stronger checks like very many other countries do".
"We were warned about the Brazil variant three days ago, we don't know yet whether that will potentially undermine the vaccination programme so why aren't you taking immediate action on a precautionary basis?" she asked.
The prime minister replied: "Well we are and we're putting in extra measures to ensure that people coming from Brazil are checked and indeed stopping people coming from Brazil."
Ms Cooper asked: "Are you? That's a new announcement?"
"No sorry I said what we were looking at was the question of whether or not the Brazilian variant is immune resistant," he responded.
Pressed on whether this means a new travel ban being imposed on Brazil, he said: "We are taking steps to ensure that we do not see the import of this new variant from Brazil."
Ms Cooper repeatedly asked Mr Johnson what those steps exactly are, to which he cited the incoming plans - for later this week - for negative tests before departure being needed.
It comes after Japan's health ministry said on Sunday that it had identified a new Covid strain in four people who had arrived from Brazil's Amazonas state on 2 January.
However, the variant is said to differ from the highly transmissible strains found in Britain and South Africa.
Takaji Wakita, the head of Japan's National Institute of Infectious Diseases, said there was "no proof" that its infectiousness is higher.
Earlier on Wednesday, England's deputy chief medical officer Professor Jonathan Van-Tam told LBC listeners not to worry about the Covid vaccines working against new strains of the virus.
Speaking with LBC's Nick Ferrari on AskJVT, Prof Van-Tam said the issue is a "science concern", but added that he "really didn't want any listeners to be too worried at this point".
He said it was a "normal situation" that the virus would mutate, as is the case with the flu, where the vaccine is changed annually to "match what we think is going to be circulating in the winter".
Prof Van-Tam said that the chances of any mutation "outwitting" the vaccine in one go "is pretty low".
"So if we were to see an effect, it would be a small degradation rather than going off a cliff," he added.
"I don't think that's something we feel that is very likely but it's something that scientifically we have to get to the bottom of."
Meanwhile, Cambridge University microbiology professor Ravi Gupta said the Brazilian variant has three key mutations that "largely mirror" some of those in the hyper-infectious South African variant "hence the concern".
"Vaccines are still likely to be effective as a control measure if coverage rates are high and transmission is limited as far as possible," he added.
Listen & subscribe: Global Player | Apple Podcasts | Google Podcasts | Spotify