Boris Johnson slammed for 'irresponsibly parading' around hospital unmasked
8 November 2021, 22:05 | Updated: 8 November 2021, 22:30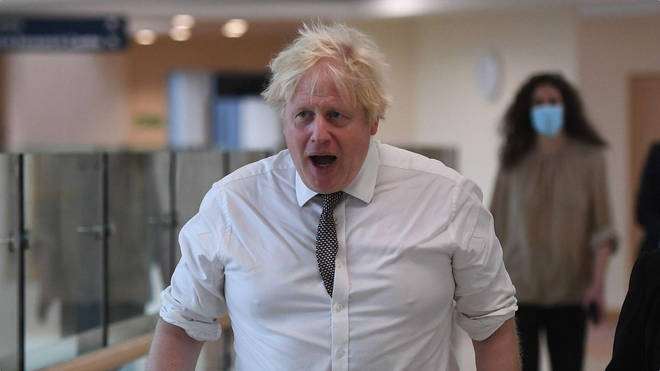 Prime Minister Boris Johnson has been criticised for not wearing a face mask during his hospital visit on Monday.
It comes after Mr Johnson visited a hospital in the North East, choosing to skip the Commons debate over the ongoing sleaze scandal in Westminster.
Shadow Health Secretary Jonathan Ashworth tweeted a "double blow" to the Prime Minister, both for his no-show at the debate and lack of PPE on his visit.
"So not only is Boris Johnson too cowardly to turn up to Parliament to defend the sleazy corrupt government shenanigans of recent days," he tweeted.
"He's now irresponsibly parading round a hospital without a mask.
"Patients and NHS staff deserve better than this."
Read more: Starmer labels Paterson sleaze scandal as 'government corruption'
Read more: Boris Johnson's poll rating plunges in Owen Paterson sleaze saga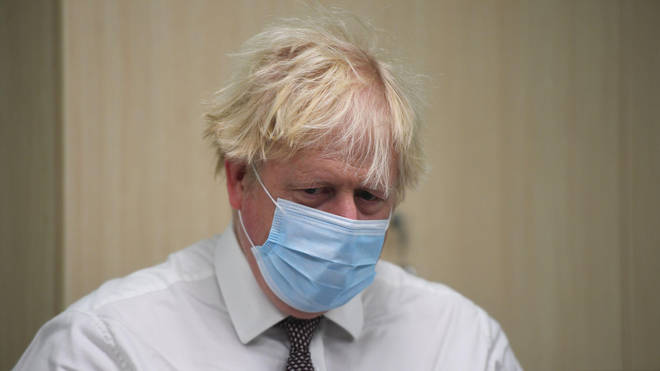 The Prime Minister was pictured with the sleeves of his white shirt rolled up, and his tie tucked into his shirt, pacing through Hexham hospital.
In photos where he is without a mask, Mr Johnson is seen elbow-bumping and greeting nurses who are wearing disposable face coverings.
However, Downing Street and the Northumbria Healthcare NHS Foundation Trust, which runs Hexham General, defended the Prime Minister following the visit.
A Downing Street spokesperson said: "As the hospital trust has made clear, the Prime Minister followed the Covid measures that are in place during his visit, including wearing a mask in all clinical areas."
Replying to a complaint about Mr Johnson appearing without a mask in a photo, Northumbria NHS said on social media: "Please be assured that infection prevention and control remains an utmost priority for our trust.
"The Prime Minister, Boris Johnson, followed strict measures, including wearing a mask, in each clinical area he visited."
According to guidance published on the trust's website, it recommends that visitors wash their hands at the hospital entrance and "wear a face covering when you enter the hospital until you leave".
Just last week, Mr Johnson came under fire after he was pictured sitting next to 95-year-old Sir David Attenborough at COP26 - without wearing a mask.
When asked why he decided not to wear one at the climate summit, the PM said: "It's up to people to make a judgement about whether they're at a reasonable distance from someone and whether they're with someone they don't normally meet."