Pictured: Mum, 43, with 'heart of gold' stabbed to death in Maida Vale killings
25 January 2022, 10:27 | Updated: 25 January 2022, 16:17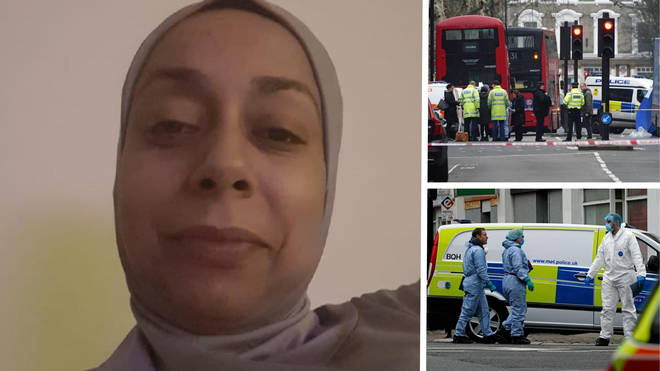 Police have named the mum-of-two who was stabbed to death in a "horrific" double killing in Maida Vale.
Yasmin Chkaifi, 43, from Maida Vale, was found with stab injuries in Chippenham Road on Monday, the Met Police confirmed.
The man who died has been named as Leon McCaskre, who was aged 41 and also from Maida Vale. He was struck by a vehicle.
Police said the two deceased were known to each other and had previously been in a relationship.
The driver of the car, a 26-year-old man, who allegedly crashed into the knife attacker, remained at the scene and was arrested on suspicion of murder.
Officers said he was fully cooperative with the investigation and has been bailed to return to a police station on a date in late February while the evidence is evaluated.
Post-mortem examinations will take place on Tuesday, 25 and Thursday, 27 January, police confirmed.
Ms Chkaifi was described as having a "heart of gold" by her devastated aunt, Haida.
It has also been reported that Ms Chkaifi's mother was taken to hospital after being given the news of her tragic death.
Witnesses desperately tried to intervene to save her, but she was fatally injured by the attacker, who police said she knew.
Visiting the site of the tragedy, the victim's tearful son, who has not been named, said: "She didn't deserve to die, please keep her in your prayers. Everyone who knew her knew she was a good person."
A woman who said she was the victim's aunt said the mother left behind two children age 12 and 18.
She added: "She had a heart of gold and was so, so beautiful. I am broken hearted. She never hated anyone and had so many friends from so all different backgrounds."
Another family member added: "Everyone is still so shocked. It was my auntie. We have all lived in the area for years."
Read more: Driver arrested on suspicion of killing man after woman stabbed to death in west London
Read more: Exclusive: Scale of neglected children revealed as half of social workers fears dismissed
Detective Chief Inspector Neil Rawlinson, of the Met's Specialist Crime Command, said: "We are gaining a clearer idea of what happened at the scene thanks to information supplied by the public and by reviewing CCTV.
"Firstly, it is apparent that members of the public bravely tried to intervene to stop the attack and their actions were very courageous.
"We are speaking to the families of those concerned and doing all we can to support them at this terrible time. We can now confirm that both the deceased were previously known to each other and there are no outstanding suspects.
"A man, who was the driver of a car, has been arrested and bailed for a very serious offence and we must carry out a full investigation, looking at all the circumstances. I would ask the media not to speculate on the causes of the deaths while we are awaiting the outcome of two post-mortems, it is important that we deal with facts.
"Lastly, we appreciate the support we have received from the public. A number of people have already come forward, but we are still asking for anyone who has not to make contact with us. Any information could be vital in helping us fully understand why this dreadful incident happened."
Read more: 'Why was his designer there?' Nick Ferrari grills minister over PM's birthday bash
Read more: Paramedics treat 'number' of people after London bus crashes into building
The local MP Karen Buck said the incidents were "horrific" and "devastating", and called for anyone with information to come forward to police.
"Horrific events in Elgin Avenue, which will be devastating for family and friends of those killed and also for the local community," she wrote on Twitter.
A cordon remains in place and a number of forensic tents were erected in the area.
Mulugetta Asseratte, an eyewitness, said: "It is a very terrible incident and for it to happen on a Monday morning. I was coming up from the bakery to Chippenham Road and suddenly heard shouts of 'stop it, stop it' and it was a girl being attacked by a gentleman.
"In any case, I'm a father of four daughters, such things do happen, and I tried to look and even say 'stop it' and it would not."
Anyone with information please call 101 ref 1496/24th Jan or contact Crimestoppers if anonymous.