Self-isolation for fully-vaccinated people with Covid slashed from seven days to five
13 January 2022, 12:26 | Updated: 13 January 2022, 13:07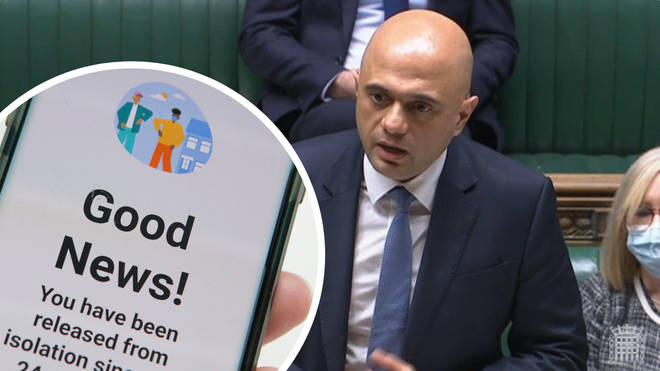 The self-isolation period for fully-vaccinated people who test positive for Covid is to be cut from seven days to five, the Health Secretary Sajid Javid has announced.
Addressing the House of Commons, Mr Javid said data from the UK Health Security Agency (UKHSA) suggested the majority of people were safe to leave isolation after five days provided they received two negative lateral flow tests first.
"UKHSA data shows that around two-thirds of positive cases are no longer infectious by the end of day five and we want to use the testing capacity that we've built up to help these people leave isolation safely," the Health Secretary told MPs.
Read more: Beleaguered Boris cancels trip to vaccine centre after family member catches Covid
Read more: 'National treasure' Jonathan Van-Tam to step down as deputy chief medical officer
"After reviewing all of the evidence, we've made the decision to reduce the minimum self-isolation period to five full days in England.
"From Monday, people can test twice before they go - leaving isolation at the start of day six.
"These two tests are critical to these balanced and proportionate plans, and I'd urge everyone to take advantage of the capacity we have built up in tests so we can restore the freedoms to this country while we're keeping everyone safe."
The change will come into effect on Monday.
Currently, fully-vaccinated individuals infected with the virus had to isolate for a maximum of 10 days - cut to seven if they received two negative lateral flow tests, 24 hours apart, on day six and seven.
The Government confirmed on Monday it was looking at reducing self-isolation further, but Prime Minister Boris Johnson insisted he was being guided by the science.
Read more: Defiant Boris clings on with Cabinet support as senior Tories call for him to quit
Read more: France set to reopen its borders to UK tourists 'within days'
There are hopes the latest change will help alleviate pressure on services that have been struggling due to high staff absences.
In Wales the self-isolation period remains at seven days, with a spokesperson from the Welsh Government saying: "We will be guided by the evidence and look forward to seeing the clinical evidence that has informed this decision."
Labour have welcomed the change but questioned whether the testing system could cope with the demand.
"We welcome the announcement the Secretary of State has made on the reduction of the Covid isolation period to five days on condition that two negative tests are produced, so let's hope the Secretary of State sorts out testing," said shadow health secretary Wes Streeting.
"Before Christmas he told use there was no issue with supply but over Christmas NHS staff and other keyworkers were unable to access tests because the Government hadn't noticed that the deliveries had shut up shop for Christmas."
Read more: 'I know the rage they feel': Boris Johnson's full statement over partygate
Read more: Govt's 'VIP lane' contract for two Covid PPE companies 'unlawful', High Court rules
Mr Javid also told MPs there were promising signs from the latest data on coronavirus as figures suggested the rate of hospitalisation was beginning to slow - although he did warn the NHS would remain under significant pressure for a number of weeks.
"There's already almost 17,000 Covid-19 patients in hospital in England," he said.
"Due to the lag between infections and hospitalisations, the NHS will remain under significant pressure over the next few weeks.
"It is encouraging, however, that during this wave we have not seen an increase in Covid-19 intensive care patients, and there are already early signs that the rate of hospitalisation is starting to slow.
"We know that Omicron is less severe. But no-one should be under any illusions, it is severe for anyone that ends up in hospital, and that's far more likely if you have not had the jab."