'In the name of God, Go': Former Brexit Secretary David Davis calls for PM to quit
18 January 2022, 13:21 | Updated: 19 January 2022, 13:46
Former Brexit secretary David Davis has called for the Prime Minister to resign saying: "In the name of God, go" at PMQs.
Mr Davis today became the first Tory to tell the Prime Minister to his face that he should resign, telling the Commons: "You've sat there too long, in the name of God go"
Mr Davis quoted a 1940 speech delivered in the Commons during the Norway Debate on the conduct of the Second World War, which ultimately led to Neville Chamberlain resigning as prime minister.
His comments came as it emerged Mr Johnson's popularity among voters plunged by 10 points as he faced the anger of MPs in the House of Commons over the partygate scandal.
New polling by Savanta ComRes survey found the PM was the least favourable of all politicians tested.
The 'favourability' poll found Boris Johnson was at 37 per cent, down by 10 per cent. The government's overall support dropped by 6 points to -33 per cent. Support for Sir Keir Starmer remained the same at -4 per cent. Rishi Sunak meanwhile was up 3 points to +10 in the survey of 2,166 UK adults.
The PM's score represents a fall of 23 points since November, and 29 points since this time last year, it said.
It indicates Labour's lead over the Tories in voting intention has narrowed slightly since the company's last assessment, from 10 to nine points.
It put Labour on 41 points, down by one, with Mr Johnson's party on 32, the same as last week.
The poll comes amid claims Boris Johnson wept privately to MPs as he faced a make-or-break Partygate showdown at PMQs where he said he will not resign.
Mr Johnson was alleged to have held a tearful meeting with backbenchers yesterday. However a No10 spokesman said today: "The story about Boris crying is completely untrue".
There were further suggestions that Mr Johnson appeared "broken" and "close to tears" as he tried to convince rebel MPs not to call for his resignation.
A growing number of rebels are gearing up for a bid to oust Mr Johnson as Prime Minister.
A group of more than 20 Conservative MPs elected in 2019 – many representing formerly Labour "red wall" constituencies – reportedly met in a gathering dubbed the "pork pie plot".
One of the options discussed was a collective submission of letters of no confidence on Wednesday.
With 54 needed to trigger a leadership vote, and an unknown number already having been submitted, such an agreement could push the number towards or even past the threshold.
However there are suggestions some MPs may wait for the outcome of Sue Gray's report before submitting their letters.
Armed Forces minister James Heappey defended the PM, telling LBC today: "I am choosing to give a man that I've worked with closely the benefit of the doubt and to believe what he has said at the despatch box.
"But for the millions of people who listen to your programme who don't want to give him the benefit of the doubt, I just ask that they wait for Sue Gray's report before they make any further judgement."
It comes as the Prime Minister is expected to scrap most Plan B Covid measures on Wednesday, in a bid to change the narrative for what is set to be yet another challenging PMQs for the leader.
Mr Johnson will make a statement to the House of Commons in the afternoon, after meeting with his Cabinet to examine the latest Covid data.
Read more: Cummings: I'll swear under oath that PM lied - as No10 'denies' latest Partygate claims
Read more: PM expected to scrap most Plan B measures as he fights to cling on to premiership
Meanwhile, the row over an ever-growing list of lockdown-breaching parties at Downing Street has been going on for months now.
But it has been recently reignited after an email showed a pre-planned gathering on May 20 2020 – an event the Prime Minister admitted he attended, if only for a short time – as well as revelations about two parties held hours before Prince Philip's funeral.
On Tuesday Boris Johnson repeatedly refused to rule out resigning after being accused of lying to Parliament by Dominic Cummings.
The Prime Minister has insisted he believed a gathering in No10's garden during the first lockdown would be a "work event".
Mr Cummings said he is prepared to "swear under oath" that the Prime Minister lied to Parliament about attending the "BYOB" party that took place while England was in lockdown in May 2020.
Mr Johnson was questioned over the claims during a visit to a hospital in north London on Tuesday, just hours after Rishi Sunak stormed out of a Sky interview after being grilled on the allegations.
"When I went out into that garden I thought I was attending a work event," Mr Johnson told broadcasters, in his first appearance since last week.
Asked if he would resign if he was found to have misled MPs, the shaken Prime Minister said: "Let's see what the report says."
Read more: 'It would've been for work': Rachel Johnson breaks silence on partygate
Read more: Labour demands answers to five key questions in Govt partygate scandal
He insisted he was not warned in advance that the drinks party - which took place when people were only allowed to meet one other person outside - was against Covid rules.
"I am deeply sorry for misjudgments that were made. I carry full responsibility for what took place," he said.
"Nobody said to me this is an event that is against the rules, that is in breach of what we're asking everybody else to do, it should not go ahead.
"What I remember is going out into that garden for a short time and for 25 minutes thanking staff who'd worked on Covid, who were continuing to work on Covid, and then going back to office
"If I had my time again, I would not have allowed things to develop in that way."
Read more: Covid laws in England 'to be scrapped in March' amid PM's 'Operation Red Meat'
Read more: 'Who should my listeners believe on partygate? The PM or Dominic Cummings?'
Downing Street has denied that Boris Johnson had lied to Parliament but said if it emerges he "knowingly misled" the House he would resign.
The Prime Minister's official spokesman said: "You have seen us say repeatedly that it is untrue that the Prime Minister was warned about the event (on May 20, 2020) in advance and you have got the Prime Minister's statement to the House."
Asked if Mr Johnson would quit if he misled Parliament, the spokesman said: "The guidance is clear, the ministerial code is very clear on this point when it comes to knowingly misleading the House and the Prime Minister abides by that, and we fully support it."
The spokesman added it was important not to "jump ahead" and conflate what was in the ministerial code with "what the investigation may or may not conclude or set out".
Read more: Who is Sue Gray, the woman in charge of No 10 Christmas parties probe
Read more: Met will not probe No10 parties unless Sue Gray inquiry finds evidence of criminality
Earlier on Tuesday, Chancellor Rishi Sunak was probed on whether he backs Mr Johnson amid a raft of Covid-19 rule busting party claims.
Mr Sunak told Sky News that he "fully supports" Mr Johnson's demands for "patience" in waiting for the Sue Gray investigation into the parties to conclude.
He added that the public should also await the outcomes of the investigation before Mr Johnson should consider his position as Prime minister.
But asked if he supported the Prime Minister "unequivocally", Mr Sunak got up and walked straight off.
Read more: Defiant Boris clings on with Cabinet support as senior Tories call for him to quit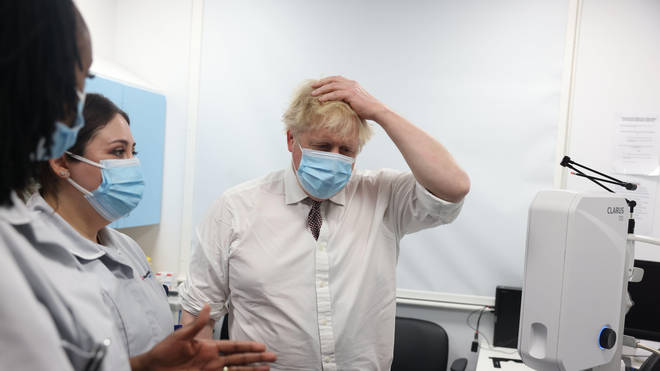 Rachel Reeves MP, Shadow Chancellor of the Exchequer, said Mr Sunak's abrupt interview shows he is "running scared once again".
"Instead of setting out a plan to tackle the Conservatives' cost of living crisis - he dodges scrutiny and defends the bungling Prime Minister," Ms Reeves said.
Meanwhile, Labour deputy leader Angela Rayner has reiterated her call for Boris Johnson to resign following his latest comments.
"Boris Johnson clearly knows it's the end of the road," she said.
"He's the Prime Minister, he set the rules, he didn't need anyone to tell him that the party he attended broke them.
"If he had any respect for the British public, he would do the decent thing and resign."
Read more: When were they not partying? No10 accused of holding 'wine-time Fridays' throughout Covid
Mr Cummings' claims have come after ITV earlier this month reported on an email inviting Number 10 staff to a boozy event to "make the most of the the lovely weather" in the spring of 2020.
The email, reportedly sent by the Prime Minister's Principal Private Secretary Martin Reynolds to over a hundred employees in Number 10, said: "Hi all,
"After what has been an incredibly busy period it would be nice to make the most of the lovely weather and have some socially distanced drinks in the No10 garden this evening.
"Please join us from 6pm and bring your own booze!"
It was reported that around 40 staff gathered in the Number 10 garden on the evening of May 20, including Mr Johnson and his wife Carrie.
No10 staff have also been accused of holding "wine-time Fridays" and hosting two parties on the eve of Prince Philip's funeral, with the Prime Minister forced to issue an apology to the Palace.
But despite the raft of Covid-busting allegations, the Metropolitan Police has confirmed it will not investigate the alleged parties at Downing Street unless the Sue Gray inquiry finds evidence of criminality.
The force said officers do not normally investigate breaches of Covid regulations when they are reported long after they are alleged to have taken place.
Ms Gray, who is in her 60s, is understood to have not been present at any of the parties under investigation.
Her findings could be revealed as early as next week.
Several ministers have since spoken out against No10 over the scandal, the latest being health minister Maria Caulfield and science minister George Freeman.
Ms Caulfield said in a statement that it was clear "that there was a culture inside Number 10" which, regardless of whether the rules were "technically" broken, showed that "the spirit of the rules were".
Meanwhile, Mr Freeman was "shocked and flabbergasted" by the revelations, according to The Times.
He said the gatherings had caused "serious damage" to public trust in the Government.