Will everyone follow Boris? Scotland and Wales face mounting pressure to scrap Covid rules
9 February 2022, 12:09 | Updated: 10 February 2022, 07:39
Scotland and Wales are under added pressure to follow England's lead in becoming the first in the world to scrap Covid-19 restrictions, including the legal requirement to self isolate.
It comes after the PM announced on Wednesday that he intends to come before MPs towards the end of February and set out his plans for "Living With Covid" - a month earlier than originally planned.
Mr Johnson said he would present the Government's "Living With Covid" strategy when the Commons returns from its recess on February 21. The current regulations had been due to expire on 24 March.
Opening Prime Minister's Questions, Mr Johnson said: "It is my intention to return on the first day after the half-term recess to present our strategy for living with Covid.
"Provided the current encouraging trends in the data continue, it is my expectation that we will be able to end the last domestic restrictions - including the legal requirement to self-isolate if you test positive - a full month early."
However, a spokesperson for Scotland's First Minister Nicola Sturgeon said the UK Government had "failed to provide devolved nations with appropriate notice to consider implications ahead of the announcement by the Prime Minister".
She said: "Isolation and mask-wearing have been among the most effective non-pharmaceutical interventions in suppressing Covid spread.
Read more: Health minister sorry for staying in meeting despite testing positive for Covid
Read more: NHS backlog cannot be blamed on Brexit staff departures, health minister insists
"All public health measures are kept under continuous review, including guidance on self-isolation.
"Decisions are informed by the latest scientific and clinical advice as well as careful consideration of the four harms."
Ms Sturgeon is set to release her plan for living with the virus later in the month. But with the Scottish Government on Wednesday extending the expiry date for certain Covid laws until September, restrictions are expected to continue until much later in the year compared to England.
Meanwhile, Wales' Mark Drakeford has not revealed whether he will follow in the Prime Minister's footsteps of axing all restrictions.
Both Scotland and Wales have remained more cautious throughout the pandemic, implementing stricter rules for the public.
In Northern Ireland, the Executive was expected to meet on Thursday to review the remaining Covid restrictions, according to the Belfast Telegraph.
However, Paul Givan's resignation as First Minister has meant it cannot take place.
Despite the PM facing criticism from the devolved nations, his announcement did see a good response from members of his own party.
Former Tory leader Iain Duncan Smith said it was time to move on from responses to the pandemic like publishing daily Covid death statistics too.
He said others could die from health problems that could arise if they are too worried to go to hospital for catching coronavirus.
"The Government's not trying to cover up the figures, what they're trying to do is say, we have to try and get back to our normal lives and live with this," he told LBC's Nick Ferrari at Breakfast.
"We've got very good vaccines... you've seen that the death figures are very low and absolutely lower than people think... if there's a surge or a real problem of course the Government will almost certainly go back to telling people what they have to do."
Former Brexit minister Lord Frost was among the first to welcome the announcement.
He said: "The PM's plan to end all COVID restrictions a month early is the right thing to do and is extremely welcome.
"I hope the Government will also make clear we will not go down the road of coercive lockdowns ever again."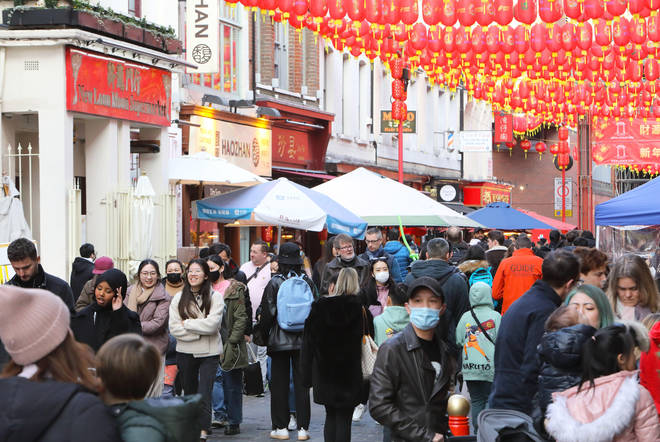 The announcement comes as the PM faces intense scrutiny over a series of parties at No10 and in Whitehall during lockdown.
Covid cases have been easing after the Omicron surge and deaths have remained relatively low.
The rules on self-isolation differ in the four nations of the UK. In England, like Northern Ireland, anyone who develops symptoms or tests positive must immediately self-isolate. It ends after five full days after two negative LFT results 24 hours apart, or after ten full days.
In Scotland and Wales, people must self-isolate for at least seven days, as soon as symptoms appear or people test positive.
Government data shows there were 66,183 new positive tests logged over the last 24 hours, down 41.1 per cent on the 112,458 recorded last week.
The number of people admitted to hospital with the virus also fell, dropping to 1,421 on February 3.
Experts from the Joint Committee on Vaccination and Immunisation are expected to present their decision on the issue shortly.
Earlier today, Paul Hunter, professor of medicine at the University of East Anglia, said the UK is "past the point" where vaccinating young, healthy children against Covid-19 will do any good.
He said: "I think in many ways we're past the point where vaccines are actually going to make much difference."
He said jabs were given to older children to hopefully protect them from interruptions to their schooling, but added: "We haven't seen that vaccines have actually done a huge amount to stop these interruptions, so I think the benefits are marginal, and it's probably too late because most kids have already had Omicron."