Amanda Holden Shares Chilling CCTV Of Moped Robbers Targeting Woman And Child
26 June 2018, 14:45 | Updated: 28 October 2019, 15:21
Amanda Holden has shared a chilling video showing the moment two men wearing helmets tried to rob a mother with her child in Richmond.
The Britain's Got Talent judge branded the culprits "scumbags" as she posted CCTV footage to her two-million Twitter followers.
The terrifying incident happened just after 12:30pm on Thursday.
It shows a moped gang congregating on Sandpits Road before two of the men confronted a woman walking with her child.
The victim managed to grab her child and run across the road as the men made off.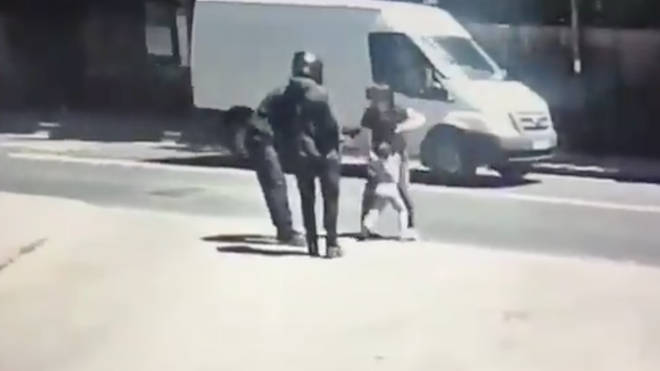 A truck driver stopped to help the woman and attempted to chase the pair.
Posting the CCTV on Tuesday, Ms Holden wrote: "So this I know is happening everywhere but this was Sandpits Road Tw10 -21st June 12;35 broad daylight. Mother and child attached. And some #Heroes in a lorry chased them off."
A spokesman from Richmond Police said: "Police were called at 12:35hrs on Thursday, 21 June to Sandpits Road in Petersham after a woman was approached by four men on a black moped and motorbike who demanded her jewellery.
"They threatened her and a young child who was with her.
"No injuries were reported.No weapon was seen, although it was intimated."
There have been no arrests at this time.